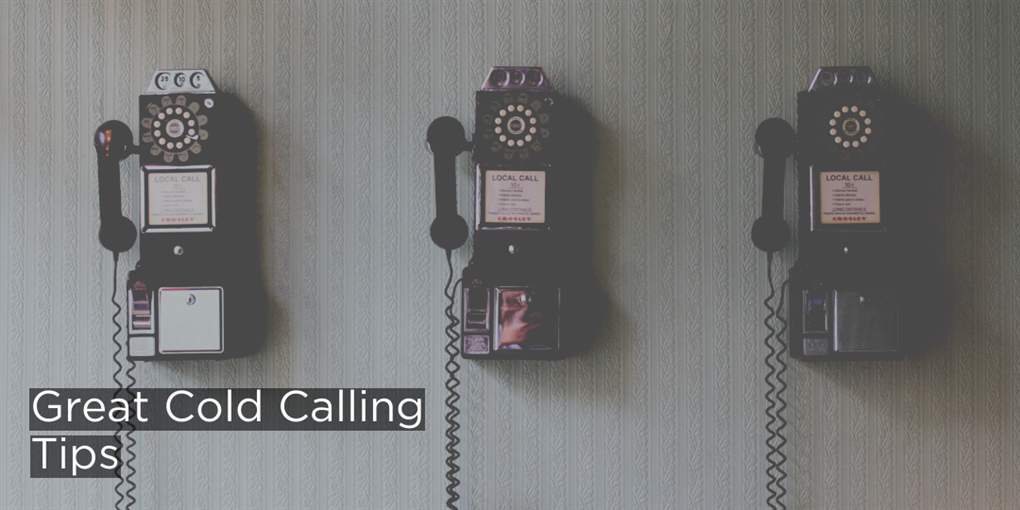 In the challenging markets of today many recruiters and recruitment businesses are focusing more and more of their efforts on cold calling to secure sales appointments and to win new business.
Well executed calls are one of the best ways to make contacts and secure deals. According to a recent survey conducted by Aaron Wallis, Telesales is one of the most effective ways to generate new business.
But in order to use cold calls to their full advantage you must have planned your approach thoroughly with a well thought out strategy. It is no use picking up the phone and hoping for the best. Not only will your sales technique be weaker but unless you are extremely adept at thinking on your feet you will sound unprepared and unreliable. This may end up doing more damage to your business than if you had never made the call in the first place.
So before you invest any more time and energy cold calling, make sure you're being as effective as possible. Determine a strategy, and set yourself targets and objectives to keep your call on track. It can make the difference between making 100 calls with a 5% success rate or 25 calls with a 20% success rate.
To improve your sales game check out our 64 tips on making better sales.
Here is a selection of great advice from experienced telemarketers to help you to make the most out of cold calling:
Who are you targeting?
Rather than making random canvass calls, be strategic about who you call. Calling companies who won't be interested or who don't have a need for what you are selling is simply a waste of time. Instead, invest your time in compiling a list of potential customers.
To do this, you must ask yourself who your target market is. Consider the following factors in order to consolidate a list of clients.
What is the profile of your ideal client?
Is there a particular industry sector you want to target – a certain size of business?
Work out who your current 'best' clients are and what about them you particularly like. This will help you profile the characteristics of new companies you want to recruit for.
Exclude the companies that don't have a real need for what you offer and make sure your hottest prospects are included.
Rather than just calling the same old companies on your database, think about buying in a new, targeted list and make fresh calls to these companies alongside your regular follow up and 'keep in touch' calls.
Once you have identified companies who fit that profile, you can prepare a prospect list made up of companies who you know have a requirement, and/or companies who are likely to have future potential. Then you can set about making targeted, efficient calls.
Call your hottest prospects first! Not only is your success rate likely to be higher, which will set you in a positive frame of mind for the remaining calls, but if you are called away from your desk at any point you know that the most important calls have been made.
At the end of each day, invest 15 minutes to create a new call list for the following day. In doing this, you can make a note of calls that need to be followed up from that day before you forget!!
Be well rehearsed
A lucrative call is predominately down to preparation. For most people calling strangers is an extremely nerve wracking thing. Unfortunately, being nervous can make you stumble over what you are saying or even forget completely. For this reason a key component in your cold calling strategy is being well prepared. Once you know who you are going to call you need to work out what to say and how to effectively target your pitch to the clients you have chosen.
Ironically, the key to reading a script is to sound like you are NOT reading from a script. Reading from a script verbatim can sound monotonous and just plain boring! Practice different ways of reading so you sound dynamic and so that there is room for you to interact with the client. After a while you will come up with a style of reading which feels comfortable. If you need to, practice with colleagues and make sure that you are confident in not only WHAT you are saying, but HOW you are saying it.
But of course, the whole phone call cannot be scripted. You also need to make sure that you are well versed in the subject that you are talking about in the likely event that you are asked a question which you don't have a pre prepared answer to. It may also be helpful to have some background information on the client and their business. It's always a good idea to demonstrate that you have done your research and that you can prove they need what you are telling them they need.
As a back up, you may decide to have all relevant paperwork to hand or to have their website in front of you. If you are faced with a question which despite hours of research you still don't know the answer to you can take a moment and quickly check back.
Plenty of research and preparation means that rather than worrying about what to say, you can focus your attention on listening to your prospect and building rapport. You will also be more capable of handling problems and objections. Unfortunately you can never truly prepare for these as you can't anticipate every question. But, practice your pitch with colleagues first and asking them to raise objections could vastly improve your ability to handle any problems which may arise. Welcome constructive feedback to make your pitch even better.
Last of all, have a voicemail message planned in case after all this – there's no answer.
All this rehearsal and preparation makes for a fool proof strategy to enable you to be confident and achieve maximum impact when cold calling.
For advice on technique and strategy see Getting into the right Frame of Mind to make Cold Calls.
Don't lose track of the end goal
The telemarketing process involves six steps:
Identify/qualify prospects and plan the campaign
Call prospects and arrange appointments
Meet prospects
Handle objections and answer questions
Make the sale
Follow up
These steps are a very broad outline of what you need to do in order to complete a successful telemarketing campaign. It is helpful to always bear these basic steps in mind so that you don't lose track of the purpose of what you are doing. Remember, ultimately your aim is to make the sale. If you stick to these guidelines your calls will have a structure and you will have clear targets to keep you focused.
Set targets and objectives
Target setting is essential to keeping you motivated. Before you pick up the phone for every call, come up with a list of five things that you want to achieve. Keep this list in front of you, or if necessary write them on a post-it note and stick them on your computer screen. Your call is more likely to have focus and direction if you are constantly aware of what you are trying to achieve. Unless you know what you're aiming for, you're unlikely to succeed.
It may be helpful to divide your objectives into primary and secondary categories.
Firstly, the primary list - determine a list of things that you must achieve regardless, even if it's something as simple as confirming the name of the decision maker. Then, for the secondary list, write a list of targets that you aim to achieve if you are faced with a best case scenario. That way, you won't let a good opportunity pass you by.
Come up with a minimum of five and have a few more in mind just in case you have a talker!
Keep a sales log book
The most important things in your life are worth recording. That's why top sales people keep a sales success logbook.
This has several practical benefits. Keeping a record means that you can recall important details such as time of calls or contact details if necessary.
More importantly keeping a record of your successes will allow you build up an understanding of strategies which have worked for you. Record what you learnt, what you're proud of, and how you are going to do things differently next time… You may also record a list of failures to keep as a reminder of techniques which don't work. Knowing this powerful information will enable you to measure your progress and help you identify areas for improvement.
By recording all your calls you will begin to build up an idea of the number of calls you can make per day/week. You can use this to set targets to improve on. You will also compile a success/failure ratio which is also useful for target setting.
Navigate our Candidate Advice categories by clicking the following icons:



You May Also Like