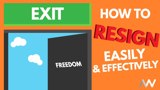 Managing a Counter Offer During Resignation
Resigning from a role can be a stressful experience, particularly if you are leaving friends and a brand that you have worked tirelessly for over the years.  

It is imperative that you leave an employer on good terms for future references - it's just what professionals do.  Remember, you never know what might happen in the future and it's always good practice to part company on a positive.

If executed correctly and professionally and, perhaps after an initial shock and possible emotional outburst (!), most employers will accept and understand why you are looking to move on in your career.
Five Hints And Tips On Resigning
1) Request a formal meeting with your boss - don't just slam the resignation letter down under his nose first thing on a Monday morning.  Detail that you have to urgently meet with your boss in a private area to discuss an urgent matter.
2) There is a great website called: www.i-resign.com/ that details a number of solid templates for helping you write your resignation letter.  These are pretty 'straight and to the point', but will form a good foundation for your resignation letter.
3) Prepare a carefully worded resignation letter detailing what you've learned and enjoyed during the time at the business.  Detail, in positive terms, the reasons why you have decided to move on.  Focus on the many positives that excite you in your new role that are, perhaps, not available in your current role.  Never be derogatory about the company or individuals within the company!  Taking the time to write a comprehensive resignation will prove to your boss that your resignation is not a knee-jerk reaction, or done 'on a whim'.  Keep a copy for the future as it often helps you to remember why you've made your major life decisions.
4) Detail your understanding of the notice period that you are contracted to and detail a provisional leaving date.  If you are hoping to leave sooner than the end of your notice period then detail handover targets that you will achieve prior to leaving and request a more favourable date.  In sales roles, it is rare that sales professionals are kept to their entire notice period and often you are placed on 'garden leave' on full pay until the end of your notice period.  Officially you are not able to work for your new employer during this period, but it is a terrific time to plan and research.  
5) Be prepared that the meeting may have an initial emotional sting; particularly if your resignation comes as a complete surprise.  If things do turn nasty, which is extremely rare,  simply politely request that the meeting reconvenes in 30 minutes.  This is adequate time for your boss to regain composure and for the shock to 'sink in'
How To Manage A Counter-Offer - Or Offer Of Improved Status, Responsibilities, Benefits To Stay
When I mention 'counter offer', probably a third of all candidates have no understanding of what a 'counter offer' actually is - I guess it's recruitment jargon!  In essence, it is a revised offer, countered by your current employer upon receiving your resignation.   Normally this will compete with, or better, the offer received from your prospective new employer.
A counteroffer could take many different forms - additional benefits, commitment to training and development, additional responsibilities, enhanced status, etc.  Normally it is a straight pay increase.  
Why Would An Employer Offer You An Improved Package Or Role To Stay After You Have Resigned?
You have to question why it has taken your resignation to achieve an enhanced role, package, etc and quite where the budget is coming from to afford this?  
Six  Reasons Why Your Boss May Offer You A 'Counter Offer'?
You might be one of the top sales performers - how is he going to reach his quarterly sales target (and quarterly sales bonus!) without you?

The timing might be bad with staff going on leave and she needs all of the staff available for the next quarter

She may be considering keeping you for the short term until she finds your replacement before making your role untenable forcing you to eventually leave anyhow

He may be wondering how your resignation will affect him - how will it look to the board, yet another resignation!

She may want you to finish a project or tender process that you've started.  Upon completion, your services may no longer be required!

Recruiting is time-consuming and expensive - does she have the time and the budget at this point to recruit and train a new employee?
Read below for The Golden Rule for Managing a Counter Offer
Although a counter offer can be flattering - "wow, they really don't want to lose me", in reality they rarely work out.  A major consultancy firm in the late 1990's detailed that 90% of employees that accepted a counter offer eventually left the business within 12 months.
The main reason is that you've demonstrated disloyalty by attending interviews and investigating other opportunities.  In the back of your boss' mind it is likely that your loyalty will forever be in question.

You're going to have to work hard to win back you boss' trust.  Because you have deemed to be disloyal often candidates suddenly find that key accounts, training and progression opportunities go to their team around them.

By investigating other opportunities you have stepped over a psychological line and you'll struggle to get back the passion and pride that you once had for your employer - whatever the improved pay is like.

You may receive an enhanced package today, but it's unlikely that you'll also receive the annual pay rise next year.

Counter offers are often made to simply cover the short-term, whilst plans are made to replace your responsibilities.  

Employees rarely leave a business purely for money - the reasons behind your resignation still remain.

Where does the budget come from to pay for this enhanced package?  Often sales targets are reset exponentially to cover this and you'll never be able to reach your sales targets and accelerated commissions again.

You have now revealed to your company the reasons for your unhappiness - will this change?

Your colleagues will look at you differently and often your boss will use you as a 'trophy' and boast how they convinced you to stay

If times get tough the cutbacks often start with the disloyal employee!
The Golden Rule: How to Manage a Counter Offer
Before you withdraw your application from the firm that has offered you an alternative role, ensure that you have in writing the specifics of the promotion or increased package OR a firm timeline of when this will happen.  Make sure that a Senior Director signs it.
If you were looking to leave due to an issue, such as bullying, ensure that you have the commitment from a Senior Director, in writing, that steps will be taken to ensure this doesn't happen again.
It is also worth getting the Senior Director also to confirm that your position will not be in jeopardy moving forward and that despite your resignation, you are still on favourable terms. You may also want them to confirm some financial compensation should your position become untenable at some point in the future.
Only withdraw your application from the other offer once all of the above is received in writing.  If they are not prepared to put the details of the counteroffer in writing then question whether what has been promised will materialise.  And, while you are at it, why not ask for a re-signing on bonus!
Published: 26th March 2021
Submit your CV
Take the first step towards your new role today
Search jobs
With hundreds of jobs available, now is the time to look for your perfect position
Please call us to discuss your next move
Thanks for all your help during the recruitment process. I have been extremely impressed with Aaron Wallis especially when compared to other agencies we have dealt with. I really felt you grasped the type of person we required and found strong candidates.
UK Sales Manager, Nexcom
Giles is highly professional and was a pleasure to work with. He achieves excellent results through his personable skills and tenacity. I have no hesitation in recommending Giles to anyone who considers employing his services.
Commercial Director, G4S Government & Outsourcing Solutions
I really liked the YouTube presentations which made the service seem both simple and accessible. The company came to see me, and my management team, at short notice to present their service and I liked the support and advice that I received about maximising the results from the applicant.
Managing Director, Leisuresec plc
In an industry where people over promise and under deliver, Rob and his teams have consistently provided a high-quality service. It is great to deal with someone that has an excellent understanding of UK industry, and a passion for sales.
Sales Manager, TR Fasteners
Giles Phillips is a rare find in the minefield of sales recruitment; an honest and thoughtful recruiter who considers the needs of both the client AND the candidate to create perfect role matches. I look forward to working with him again in the future.
Marketing Director, City of London Police
I have used Aaron Wallis to fill a number of our Sales Development Manager roles and I have found them to provide a very professional service. I will use their services again in future recruitment campaigns.
HR Business Partner, Greene King
Understood the type of person we were looking for and good follow ups - not too frequent.
Managing Director, bigHead Bonding Fasteners Ltd
Since joining DSGi, Rob has been a supplier of permanent staff and has performed to an extremely high standard, successfully filling 98% of roles he has worked on. If anyone is looking for a good sales and marketing based consultancy with an informal yet professional approach, I would recommend Rob.
Senior Recruitment Consultant, DSG International
Rob is a true recruitment professional that goes the extra mile that I have never experienced from any other recruitment agency before. If you need sales people call Rob or someone in his team, as they really are experts in sales recruitment.
Sales Director, Inside Business
We appointed Aaron Wallis in February and the successful candidate, out of the six which Aaron Wallis introduced, was able to join Alphametrics before the end of April. The whole process took less than three months. I would recommend Aaron Wallis' services to others without hesitation.
Chief Financial Officer, Alphametrics
I just wanted to thank you for your help with our recruitment process which went very smoothly and has – we hope – found us just the person for the job!
Managing Director, Citrefine International Ltd
I found Aaron Wallis to be very professional and efficient, taking time to understand the role and the type of candidate we were looking for. The candidates they put forward met our criteria and were of a high standard. The service they provided was exemplary and I would have no hesitation in recommending them, and will certainly consider using them again in the future.
HR Assistant, Fischer Connectors Ltd
We were impressed not only by the quality of candidates you found for us but also the level of information, preparation and qualification you put into the process. You continually kept us informed of each person's feelings about the process, which is very important but often overlooked. I am looking forward to working with your company again in the future.
Commercial Director, Incentive Facilities Management
Aaron Wallis has continuously provided us with suitable candidates that have been proactively sourced. Having used countless recruitment companies, Aaron Wallis are the only company that I can count on to deliver.
Managing Director, JARK Healthcare Recruitment
Rob's knowledge of the recruitment industry and his thoughts and how to make it better for his clients have always been eye opening. I would recommend Rob to anybody who is looking for a professional, knowledgeable and flexible recruitment specialist.
CEO, Friday Ad Online Services
I have always found Rob to be very knowledgeable about our industry sector, and it is refreshing to see after all of these years that Rob continues to quickly and accurately understand my requirements.
HR and General Manager, THK
Aaron Wallis is an outstanding recruitment agency specialising in high calibre sales positions. I was working directly with Darren Dewrance who went above and beyond my expectations in sourcing me my perfect role. I was kept in regular communication with Darren and he worked extremely hard to secure my dream job. Highly recommended and Thanks Darren for all your expertise and hard work.
R. Sealy, Candidate
A great recruitment company to work with. Excellent experience with Aaron Wallis through the entire recruitment process. The team was really professional and extremely helpful. Darren was a pleasure to work with. He was friendly, supportive and gave me great advice. Thank you very much!
A. Bauchet, Candidate
I've had a really good experience working with Giles Phillips at Aaron Wallis. From initial contact to the finer details of securing the job, he has been very professional and a pleasure to work with.
M. Shutt, Candidate
The service provided by Aaron Wallis has been just great. I was constantly informed about what was going on with the process interview and the agent has always been supportive and kind to me.
L. Colagrossi, Candidate
Aaron Wallis Sales Recruitment are a very friendly and professional recruitment organisation who listen to your needs, work with you and act on your behalf which sets them apart from many of their competitors who in my experience are willing to throw anything at you. We discussed my history, my preferences and my wishes - one opportunity was introduced. It was perfect. I start at the end of June.
R. Buckley, Candidate
Aaron Wallis (and in particular Rob Scott) have been fantastic throughout the recruitment process, and even a few months down the line, still continues to care. Rob clearly cares about each individual and has a wealth of knowledge and expertise, which shows in the work he does. Each candidate is not just a number, and the support received from Aaron Wallis has helped me get a career which I truly enjoy.
M. White, Candidate 
Very good advice and support was given during the course of the interviewing process. Potential job seekers would be well advised to use this company whilst looking for their new career.
R. Speakman, Candidate
Aaron Wallis have provided me with an excellent service, Giles went out of his way to help me preparing for my interview and supported me through all the processes. If you need an agency to give you a fully professional and consultative approach to finding you a new career move, the Aaron Wallis can certainly provide this for you.
D. Richards, Candidate
Fantastic customer service, communication was brilliant, happy polite people to talk to, made everything a lot easier and smoother. Thank you for all your help getting me back in the work force, Keep up the good work :-)
K. Everitt, Candidate
Really excellent experience dealing with Aaron Wallis. Liam Oakes who helped me get a great job was brilliant. Kept me up to date during the process and offered great help and advice, and a thoroughly nice guy. Highly recommended!
J. Hathaway, Candidate
I can honestly say that the time and expertise you gave me was way beyond any other recruitment consultant I dealt with. You are a rarity in your industry.
S. Akers, Candidate
Aaron Wallis helped me secure a position I really wanted. Giles sought to keep me updated with all the details preceding interviews and after with feedback. I would highly recommend Giles and Aaron Wallis Sales Recruitment.
L. Taylor, Candidate
The Recruitment agent I used, Simon, was extremely helpful and really went the extra mile to ensure all of my questions were answered, and that I felt as comfortable and prepared as possible. Very professional company and would definitely recommend to others. Thank you Aaron Wallis!
A. Callaby, Candidate
Excellent experience from first contact to ultimately securing a suitable placement. Giles looked after me in a very professional and friendly manner. He used his expertise and experience to ensure I was put forward for the most suitable positions for my skill set and found me a new role very quickly. I can't recommend Aaron Wallis Sales Recruitment highly enough.
M. Green, Candidate
Fantastic service, helped me find my ideal job quickly and smoothly. Would highly recommend them.
C. Caine, Candidate
Excellent service, very professional and friendly, would and have, recommended Aaron Wallis.
E. Heley, Candidate
Less than two weeks after joining Aaron Wallis I was offered my new job. I got a £10,000 rise in my basic salary, car allowance, a laptop and many other perks, which will help to further my career. I definitely would not have found my dream job without the help of Aaron Wallis.
C. Hoy, Candidate
Good swift process with Aaron Wallis, informative regarding the role and the process was moved at a good pace with healthy interaction. Would recommend them to anyone pursuing a change.
S. Bartlett, Candidate
I have to say coming across and having dealings with Aaron Wallis proved to be very successful. Being highly experienced did not seem to count for much during my job search bit a conversation with Robert Scott gave me a real confidence boost and enabled to get a position at the age of 63. Great service!!!
D. Burgess, Candidate
Perfect from start to finish. Simon deserves a shout out. Best recruiter there is. If you need a job, this guy will get you one. He's like the super man of recruiters. Top man, can't recommend him enough.
M. Crisp, Candidate