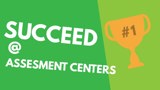 Introduction to Assessment Centres
Assessment Centres have been proven as a very effective way to recruit.  It provides an opportunity for the employer to understand a candidate's actual behaviour in a 'work like' situation and therefore get beneath the skin of the 'interview façade'.  It also is a fantastic opportunity for the candidate to get to know the company, and the hiring managers, before making the decision that the business is right for them.  Defined as 'a series of multi-exercise programmes designed to identify the recruitment and promotion potential of personnel', they take a multitude of formats.
Traditionally, Assessment Centres were mostly used to recruit for junior sales or graduate sales roles however employers are now using them to recruit at all levels.  
Assessment Centres typically last a half day, or a day, and for a sales role will normally involve a sales presentation, a one-on-one interview, psychometric profiling, formal skills testing, a debate and a group exercise (which normally involves some elements of project management, planning, assimilating information, looking at financials, marketing and lateral thinking).
Assessment Centres should be in a comfortable unbiased environment, which is why they normally take place in a hotel, conference suite, training centre or recruiters office.  After the event a good Assessment Centre facilitator will offer you full feedback on your performance.  
Assessment Centres are costly to put together and the very fact that you have been selected to attend shows that the employer is interested in your background and experience.  If you are confident in your own ability and you know your strengths and limitations, then you have nothing to fear.  Now you simply have to stand out!
The History of Assessment Centres
The history of Assessment Centres date back to the middle of the Second World War where they were utilised by the British MoD to select officers from the ranks.  Originally, they were hated by the upper echelons of the military as the officers selected did not have the educational and social background of the 'traditional' officer that progressed from public school via Sandhurst into the forces.  As a consequence many of the officers selected were 'returned to unit unfit for use'!
However those that stayed demonstrated the leadership characteristics in the field that they had demonstrated during the Assessment Centre.  It therefore soon became a formidable selection tool for the forces and remains in place today.  The assessment methodology for selection was transferred into the civil service during the 1950's and 1960's before progressing into the commercial sector during the 1960's and 1970's.  Initially used in the commercial sector by large corporations primarily to screen their graduate intake, Assessment Centres are now widely used by companies of all sizes as a recruiting and selection method.  Assessment Centres are now also used to assess existing staff for training, promotion and development.
Common Assessment Centre Exercises
In-Tray Exercises
Typically you are given a series of facts and figures and asked to assimilate and present the information.  For instance, you may be asked to be 'Marketing Director of 'Widgets 'R' Us' and given a whole series of data on market trends, future projections, budgetary restraints, social trends, current spending and historical investment effectiveness, etc. You could then be asked to put together a broad overview for a yearlong advertising campaign together with broad budget and expectations.  It sounds daunting but you will be given full instruction and guidance to the exercise.  
The exercise will tease out i) are you a 'bigger picture' or a 'detail' person; a strategist or a tactician, ii) How quickly do you work, iii) How efficiently can you work, iv) How do you problem solve, v) How do you think laterally vi) How flummoxed do you get with given 'information overkill' - can you 'sort the wood from the trees', vii) How do you explore different outcomes and eventualities, viii) How do you prioritise ix) How do you 'crunch' the information to the key facts x) How effectively can you present the final data.  
Group Exercises
You will be given a scenario for which there are a multitude of potential solutions.  The key here is to manage your time effectively by delegating and splitting into smaller teams.  If you are the 'leader' then you must ensure that you effectively 'chair' the discussions and don't allow one individual to takeover (which invariably happens); debate each issue but don't be afraid to be autocratic to get the task completed within the timeframe.  
Group exercises are looking for i) How you contribute to the team (interpersonal skills) ii) How willing you are to accept ideas from others (negotiation, tact, diplomacy) iii) How forthright you are in sticking to your own viewpoint (communication, persuasions) iv) How practically minded you are (applying common sense, logical thinking) v) How you plan and delegate vi) How you follow instructions, process, procedures and rules (compliance) vii) How easily you can be distracted from the task (focus, discipline) viii) How you engage and involve others (team working) ix) How you come to and present the outcome (problem solving, creative thinking, presentation skills) and finally x) Is the conclusion logical, plausible, effective, etc.
Presentations
If you haven't been asked to prepare a presentation beforehand normally you will be asked to prepare a sales presentation on a subject of your choice.  Normal presentation rules apply (see day 15 of the 'Career Success Masterclass' for hints and tips) but keep it short, make it engaging and present to the whole room not just the facilitators/assessors.  Invite questions and if possible use visuals such as flip charts.
Presentations are looking for i) How confident you are in public speaking ii) How fluent and articulate you are iii) How you can think on your feet (the facilitator will normally ask a question) iv) How you compose yourself, your body signals (see day 9 of the 'Career Success Masterclass' for greater information on body language) v) How you present your case and support it with facts and figures vi) How you plan and prepare - does the presentation follow the format 'tell them what you're going to say, say it and say it again!' i.e. agenda, body and conclusion, vii) How do your prioritise and stick to the key facts vii) How do you engage your audience, and finally viii) How do you perform under pressure.
Role-Plays
As a sales professional I'm sure you've had your fair share of role-plays in your time!  Occasionally Assessment Centres will bring in professional actors to play the part of the customer and the role-plays can last as long as half an hour and take the form of a true sales meeting.  Remember, no one likes role-plays so you are not alone.  Just imagine that it is a real work situation and do your best.  Be natural in your approach and remember the formal sales process and you can't go wrong: i) build rapport, ii) question to understand needs, iii) Acknowledge understanding of need iv) propose solutions including detailing features and benefits, v) gauge customers thoughts and acknowledgement, vi) semi-close, vii) overcome objections, viii) acknowledge and ix) close!  
Role-plays when executed correctly (and this is the job of the Assessment Centre facilitator), are about as good an indicator of 'on the job performance' as you can get.
Debates
Normally the subject is either an obscure one or a controversial one, i.e. either the 'features and benefits of a ping pong ball' or 'Nuclear Power - good or bad'.  Debates give you the opportunity to demonstrate your ability to get others to see your way of thinking and can be a powerful demonstration of your communication and persuasion skills.  However, don't be too dogmatic, keep your cool whatever happens, listen to the opposite argument, make notes and carefully articulate your points.  
The Panel Interview
On Assessment Centres you may be interviewed by the panel as a whole or be interviewed by a several different key decision makers on a one-to-one basis throughout the day.  Treat a panel interview as you would any other interview (see days seven - First Interviews and day fourteen - second interviews of the 'Career Success Masterclass' for hints and tips).  
If it is a panel interview ensure that you have eye contact with each of the interviewers and present your answers to each and every one of the interviewers - not just the one that asked the question, or the most senior one!

Psychometric Profiling and Skills Testing
Various forms of profiling and testing take place during a typical assessment centre. 
Submit your CV
Take the first step towards your new role today
Search jobs
With hundreds of jobs available, now is the time to look for your perfect position
Please call us to discuss your next move
Since joining DSGi, Rob has been a supplier of permanent staff and has performed to an extremely high standard, successfully filling 98% of roles he has worked on. If anyone is looking for a good sales and marketing based consultancy with an informal yet professional approach, I would recommend Rob.
Senior Recruitment Consultant, DSG International
Giles is highly professional and was a pleasure to work with. He achieves excellent results through his personable skills and tenacity. I have no hesitation in recommending Giles to anyone who considers employing his services.
Commercial Director, G4S Government & Outsourcing Solutions
Thanks for all your help during the recruitment process. I have been extremely impressed with Aaron Wallis especially when compared to other agencies we have dealt with. I really felt you grasped the type of person we required and found strong candidates.
UK Sales Manager, Nexcom
In an industry where people over promise and under deliver, Rob and his teams have consistently provided a high-quality service. It is great to deal with someone that has an excellent understanding of UK industry, and a passion for sales.
Sales Manager, TR Fasteners
I really liked the YouTube presentations which made the service seem both simple and accessible. The company came to see me, and my management team, at short notice to present their service and I liked the support and advice that I received about maximising the results from the applicant.
Managing Director, Leisuresec plc
I have used Aaron Wallis to fill a number of our Sales Development Manager roles and I have found them to provide a very professional service. I will use their services again in future recruitment campaigns.
HR Business Partner, Greene King
We appointed Aaron Wallis in February and the successful candidate, out of the six which Aaron Wallis introduced, was able to join Alphametrics before the end of April. The whole process took less than three months. I would recommend Aaron Wallis' services to others without hesitation.
Chief Financial Officer, Alphametrics
I found Aaron Wallis to be very professional and efficient, taking time to understand the role and the type of candidate we were looking for. The candidates they put forward met our criteria and were of a high standard. The service they provided was exemplary and I would have no hesitation in recommending them, and will certainly consider using them again in the future.
HR Assistant, Fischer Connectors Ltd
I just wanted to thank you for your help with our recruitment process which went very smoothly and has – we hope – found us just the person for the job!
Managing Director, Citrefine International Ltd
Rob is a true recruitment professional that goes the extra mile that I have never experienced from any other recruitment agency before. If you need sales people call Rob or someone in his team, as they really are experts in sales recruitment.
Sales Director, Inside Business
We were impressed not only by the quality of candidates you found for us but also the level of information, preparation and qualification you put into the process. You continually kept us informed of each person's feelings about the process, which is very important but often overlooked. I am looking forward to working with your company again in the future.
Commercial Director, Incentive Facilities Management
Understood the type of person we were looking for and good follow ups - not too frequent.
Managing Director, bigHead Bonding Fasteners Ltd
Giles Phillips is a rare find in the minefield of sales recruitment; an honest and thoughtful recruiter who considers the needs of both the client AND the candidate to create perfect role matches. I look forward to working with him again in the future.
Marketing Director, City of London Police
I have always found Rob to be very knowledgeable about our industry sector, and it is refreshing to see after all of these years that Rob continues to quickly and accurately understand my requirements.
HR and General Manager, THK
Rob's knowledge of the recruitment industry and his thoughts and how to make it better for his clients have always been eye opening. I would recommend Rob to anybody who is looking for a professional, knowledgeable and flexible recruitment specialist.
CEO, Friday Ad Online Services
Aaron Wallis has continuously provided us with suitable candidates that have been proactively sourced. Having used countless recruitment companies, Aaron Wallis are the only company that I can count on to deliver.
Managing Director, JARK Healthcare Recruitment
Perfect from start to finish. Simon deserves a shout out. Best recruiter there is. If you need a job, this guy will get you one. He's like the super man of recruiters. Top man, can't recommend him enough.
M. Crisp, Candidate
A great recruitment company to work with. Excellent experience with Aaron Wallis through the entire recruitment process. The team was really professional and extremely helpful. Darren was a pleasure to work with. He was friendly, supportive and gave me great advice. Thank you very much!
A. Bauchet, Candidate
Less than two weeks after joining Aaron Wallis I was offered my new job. I got a £10,000 rise in my basic salary, car allowance, a laptop and many other perks, which will help to further my career. I definitely would not have found my dream job without the help of Aaron Wallis.
C. Hoy, Candidate
Aaron Wallis helped me secure a position I really wanted. Giles sought to keep me updated with all the details preceding interviews and after with feedback. I would highly recommend Giles and Aaron Wallis Sales Recruitment.
L. Taylor, Candidate
I've had a really good experience working with Giles Phillips at Aaron Wallis. From initial contact to the finer details of securing the job, he has been very professional and a pleasure to work with.
M. Shutt, Candidate
Aaron Wallis Sales Recruitment are a very friendly and professional recruitment organisation who listen to your needs, work with you and act on your behalf which sets them apart from many of their competitors who in my experience are willing to throw anything at you. We discussed my history, my preferences and my wishes - one opportunity was introduced. It was perfect. I start at the end of June.
R. Buckley, Candidate
Fantastic customer service, communication was brilliant, happy polite people to talk to, made everything a lot easier and smoother. Thank you for all your help getting me back in the work force, Keep up the good work :-)
K. Everitt, Candidate
Aaron Wallis is an outstanding recruitment agency specialising in high calibre sales positions. I was working directly with Darren Dewrance who went above and beyond my expectations in sourcing me my perfect role. I was kept in regular communication with Darren and he worked extremely hard to secure my dream job. Highly recommended and Thanks Darren for all your expertise and hard work.
R. Sealy, Candidate
Good swift process with Aaron Wallis, informative regarding the role and the process was moved at a good pace with healthy interaction. Would recommend them to anyone pursuing a change.
S. Bartlett, Candidate
Very good advice and support was given during the course of the interviewing process. Potential job seekers would be well advised to use this company whilst looking for their new career.
R. Speakman, Candidate
Excellent experience from first contact to ultimately securing a suitable placement. Giles looked after me in a very professional and friendly manner. He used his expertise and experience to ensure I was put forward for the most suitable positions for my skill set and found me a new role very quickly. I can't recommend Aaron Wallis Sales Recruitment highly enough.
M. Green, Candidate
I can honestly say that the time and expertise you gave me was way beyond any other recruitment consultant I dealt with. You are a rarity in your industry.
S. Akers, Candidate
Aaron Wallis (and in particular Rob Scott) have been fantastic throughout the recruitment process, and even a few months down the line, still continues to care. Rob clearly cares about each individual and has a wealth of knowledge and expertise, which shows in the work he does. Each candidate is not just a number, and the support received from Aaron Wallis has helped me get a career which I truly enjoy.
M. White, Candidate 
The service provided by Aaron Wallis has been just great. I was constantly informed about what was going on with the process interview and the agent has always been supportive and kind to me.
L. Colagrossi, Candidate
The Recruitment agent I used, Simon, was extremely helpful and really went the extra mile to ensure all of my questions were answered, and that I felt as comfortable and prepared as possible. Very professional company and would definitely recommend to others. Thank you Aaron Wallis!
A. Callaby, Candidate
Excellent service, very professional and friendly, would and have, recommended Aaron Wallis.
E. Heley, Candidate
Aaron Wallis have provided me with an excellent service, Giles went out of his way to help me preparing for my interview and supported me through all the processes. If you need an agency to give you a fully professional and consultative approach to finding you a new career move, the Aaron Wallis can certainly provide this for you.
D. Richards, Candidate
Really excellent experience dealing with Aaron Wallis. Liam Oakes who helped me get a great job was brilliant. Kept me up to date during the process and offered great help and advice, and a thoroughly nice guy. Highly recommended!
J. Hathaway, Candidate
I have to say coming across and having dealings with Aaron Wallis proved to be very successful. Being highly experienced did not seem to count for much during my job search bit a conversation with Robert Scott gave me a real confidence boost and enabled to get a position at the age of 63. Great service!!!
D. Burgess, Candidate
Fantastic service, helped me find my ideal job quickly and smoothly. Would highly recommend them.
C. Caine, Candidate