Aaron Wallis offers the PPA, or Personality Profile Analysis, as a quick psychometric tool that is excellent as an aide for an interview and published by Thomas International. The PPA was one of the first psychometrics that was commercially available and commonly referred to DISC or simply, Thomas!
The tool is considered to be both quick and effective for pre-selection and as an interview guide for selection and has its origins in the United States. The psychometric tool is commonly used in conjunction with the HJA (Human Job Analysis) to benchmark selected candidates against the traits required by the role (the HJA is completed by the employer and the PPA by each candidate - the resulting reports are then compared and contrasted together.
PPA is a useful psychometric questionnaire for use in both sales and non-sales roles and whilst it was originally published in its current form in 1998 it was revised and updated in 2003. Completed by candidates in less than ten minutes the PPA is available both online and as a paper and pencil questionnaire. Each candidate is given 24 sections to complete each of which contains four adjectives. They are then asked to score one adjective 'M' which is the word that is most like them and one adjective 'L' which is the word that is least like them.
The report that is generated uses the DISC psychometric structure which has its origins in Marston's theory.
The Disc profile report indicate and gives feedback upon the following four personality traits: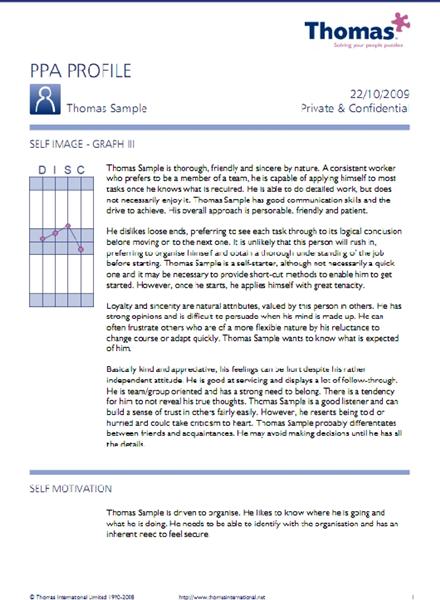 Dominance. Descriptive words could be: decisiveness, persistence, dogmatism, determination, self-assuredness, assertiveness, drive, forcefulness

Influence. With descriptive words such as Interpersonal skills, social sophistication, interactivity, gregariousness, persuasive ability, sociability, friendliness, affability, intuitiveness

Steadiness (pace) . Descriptive words are for instance, restlessness, innovation, energy, reliability, ability to perform repetitive tasks, steadfastness, dependability

Compliance with descriptive words such as meticulousness, ability to comply, attitude towards following structure and process, rules orientation, conforming, individualistic,
PPA has been translated into over 46 languages which means that it can be undertaken in the candidate's mother language. This has proven to be a fairer and more validated way to benchmark candidates from different nations.
The resulting report gives three graphs on the above 4 characteristics which considers the candidate's responses and scores them on a range from -21 to +21. The three graphs describe:
How the candidate perceives themselves at work

How the candidate perceives others to perceive them at work

How the candidate perceives themselves to react under pressure
There after there is a very wide range of both graphical and narrative reports than can be generated from this 'raw' data dependent on why you are looking to sue the PPA. These reports can be tailored for:
Sales

Management

Sales Interview Questionnaire

Management Questionnaire

Training Needs

Comparison against HJA (Human Job Analysis)

And even an indication of Driving style!
There are many other guides available but these detailed are the guides used and recommended by Aaron Wallis, particularly for sales recruitment and management recruitment.
Many of these offer comprehensive interview questions and and act as very useful interview guides.
PPA COSTS
Aaron Wallis clients that are currently recruiting in partnership with Aaron Wallis are able to upgrade their psychometrics to the PPA (Graphs, scores and sales report) at a supplement of:
To all other employers, Aaron Wallis are able to offer PPA's at the following costs:
PPA COST for non-Aaron Wallis clients (Graph, scores and first report) : £180+VAT per candidate
These prices includes:
Thorough briefing session with each candidate with a BPS Level A and Thomas International accredited consultant prior to taking the questionnaire

Full administration of the questionnaire

Feedback to both client and candidate from a Thomas International accredited consultant

First report out of the following reports - leadership Skills, Management Interview Questionnaire, Sales Interview Questionnaire, General Questionnaire, Interviewer's Guide, Personnel Review, Strengths & Limitations, How to Manage, Training Needs, Driver Report or Sales Audit
Payment is required in full (by BACS, credit card, IBAN or similar bank transfer) prior to setting up the RPQ questionnaires.