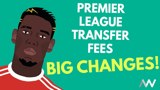 Future Football Transfer Fees
How Much Will Football Transfer Fees Cost in 10 Years' Time?
Ten years ago splashing out £10 million on a new player would mean most clubs breaking their transfer record.  Fast forward to today and this price is the average premier league transfer fee and upwards of £45M seems to be normal for a top marquee player.
With data from Deloitte and Transfermarkt, we've been able to research just how inflated football transfer fees have become, and we've used this data to predict the transfer fees of the future.
To predict the transfers of the future, we've had to look into the transfers of the past:
Average 'Marquee Transfer' Fee By Season - Last Decade
The price of a top premier league player has increased by an average of 11.5% each season.
To work this out, we've used the following calculation:
Average Marquee Transfer Fee = Top 5 Transfer Fees Each Season ÷ 5 
By using this % increase in transfer fee cost of the most expensive premier league signings, we've been able to predict what a marquee signing will cost in the future.
'Marquee Transfer' Fees Of The Future - Next 10 Years
We predict that in 10 years' time, the average transfer fee of a marquee player will be nearly £150m.
There will still be outlying transfer fees like Paul Pogba of last season, but we think that in the 2026/27 premier league season, the top 5 signings will come to an average of £148.5m. You would expect that in 10 years' time, the most expensive transfers of that season, like Romelu Lukaku this season, will probably be in the hundreds of million pounds.
What Would Recent Football Signings Cost in 2027?
Using our model, we've looked at the top premier league transfers of this and last season, and predicted how much they would cost in 10 years' time.
This uses the average price percentage increase of marquee football transfers over the last decade, and applies it to each transfer.
Transfer Fees Of This Season vs 2027/28 Price
Romelu Lukaku – £303m in 2027 (£75m in 2017)
The 24 year old Belgian powerhouse was transferred to Manchester United this season for £75m + addons. We predict that in 10 years' time his transfer fee would be over £300m, this fee alone would be nearly more than the entire premier league's transfer spend 10 years ago.
Bernardo Silva – Manchester City moved quickly to sign Silva from Monaco back in May for £43m. We think if he moved in 2027 his fee would be around £170m.
Mohamed Salah – The Egyptian international was confirmed as a Liverpool player in June, breaking their club transfer record for a fee of £36m. We reckon he'd be going for over £140m in 10 years' time.
Transfer Fees of Last Season vs 2027/28 Price
Leroy Sane – The German winger was another big money signing for Manchester City last summer, setting them back over £40m. If transferred in the 2027/28 season, we think he'd be going for nearly £200m.
Henrikh Mkhitaryan – The silky midfielder took a while to make it into the Manchester United eleven, but impressed when finally starting. We think his sale price in 2027/28 would be around £165m.
 To work these figures out we've used the following formula:
Transfer Cost 2027/28 = Fee Year Transferred x 11.25% to the power of 10 or 11 years
(Depending on whether they were transferred last year or this year)
How Much Will An Average Premier League Signing Cost In The Future?
To look into this, we've used data from Transfermarkt to look at data from the last 10 years:
Average Premier League Transfer Fees 2007-2017
Over the last 10 seasons, transfer fees have risen by an average of 28% each year. 
To find this, we used the following formula:
Average Fee = Total Premier League Transfer Spend ÷ Total Number of Transfers
Unsurprisingly, the highest average fee by premier league season was last year, where the average signing would set you back an estimated £9.29 million.
The average fee has steadily grown over the last 10 years, with the exception of the 2011/12 and 2013/14 seasons.
Premier league spend has grown in line with this, over quadrupling in the last 10 years:
Total Premier League Transfer Spend By Season
Using this data, as well as an average of the amount of players transferred each season, we've been able to predict what the standard premier league player will cost you in 10 years' time:
Average Premier League Transfer Fees Of The Future
We predict that in 10 season's time the average premier league transfer fee will be over £50million.
To work this out we've used the following calculation:
Average Future Fee = (Current Premier League Spend x 121% to the power of 10) ÷ Average Number of Transfers 
Being a specialist sales recruitment agency, we have a keen interest in recruitment fees, although we can't see them growing in line with football costs!
If you're struggling to fill a sales vacancy, get in touch with Aaron Wallis today.
Published: 26th March 2021
Search jobs
With hundreds of jobs available, now is the time to look for your perfect position
Recruit sales staff
Just fill in your details below to get started

by Rob Scott
Managing Director

About the author
Rob Scott
Rob is the Managing Director of Aaron Wallis Sales Recruitment, a national recruitment agency specialising in sourcing sales and marketing staff for businesses across a broad range of commercial sectors. Before setting up Aaron Wallis, Rob spent ten years at a specialist Sales and Marketing recruitment division of a £0.5BN recruitment group, leaving in 2007 as Marketing & Sales Director to establish Aaron Wallis.
With over 26 years of experience in sales recruitment, Rob is a History graduate with an MBA (Merit) and a PgCert in Management Practice.  In 2007, 2009 and 2013, Rob conducted the most extensive surveys of sales professionals in the UK and is a trusted authority in the sales industry. From guiding employers through the recruitment process to helping candidates find their dream job, Rob's advice has been quoted in leading publications such as the FT, Business Insider, Forbes and The Independent, as well as OnRec, which hosts The Online Recruitment Awards every year.