Aaron Wallis offers the ASQ, or Advanced Sales Questionnaire as it is a highly validated psychometric tool that was written and released by Kenexa in 2005.
Most sales psychometrics available were originally written for the US or Australian markets and then 'tweaked' to the UK sales workforce. We therefore highly recommend the tool as the ASQ was specifically written for the UK and the quintessentially British personality nuances of UK based sales professionals
The ASQ is an accurate and useful tool as an interview aide for sales roles and other roles that require high levels of customer contact, customer influence and client relationship management
The Advanced Sales Questionnaire (ASQ) is a self-report personality questionnaire which means that the candidate completes the questionnaire in their own time via the Internet. The questionnaire is devised to measure personality traits that are likely to have an impact upon success or failure in a variety of sales roles across all industries.
The ASQ consists of 110 statements that are relevant to sales roles and the candidate must indicate on a scale of 1 to 5 their agreement to this argument. There is no time limit but the test provider recommends a maximum of twenty minutes (though most complete the questionnaire in less than twelve). This is completed online.
The questionnaire results in three reports: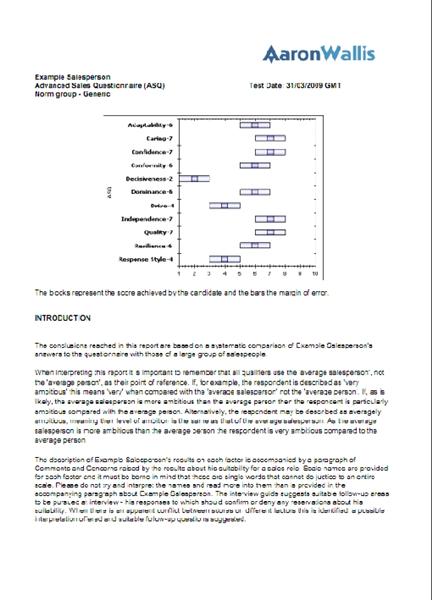 The Administrator report is for the interviewer and should not be shown to the candidate. This is to be used as a highly effective interview aide and provides tough questions to probe
The Feedback report is to be given to the candidate after the interview for their own development and interest
The Graph report is typically held on the successful candidate's personnel record and the 'raw' scores can be used to benchmark against other candidates or future ASQ questionnaires that are undertaken as part of an employees development scheme,
The reports of the ASQ look at ten specific sales behaviours. These are:
Scales Assessed:
Adaptability: preference for flexibility and variety

Caring: concern for others

Confidence: belief in own competence and assurance in interacting with others

Conformity: preference for and compliance with a structured environment

Decisiveness: risk taker rather than cautious approach

Dominance: assertiveness, tendency to take the lead

Drive: ambition, drive and determination

Independence: preference for work without guidance and support

Quality: organisation and attention to detail

Resilience: coping with pressure and setbacks
The report also indicates a 'response style' which means their tendency to respond in a socially desirable manner, i.e. whether they have a tendency to describe themselves in a particularly positive or more self-critical fashion.
Example ASQ Reports
ASQ COSTS
For Aaron Wallis employer clients recruiting in partnership with Aaron Wallis are able to upgrade their included PIP to the ASQ at a supplement of:
COST TO UPGRADE TO ASQ: £40+VAT per candidate payable upon agreement to assignment
This includes:
Thorough briefing session with each candidate with a BPS Level A qualified consultant prior to taking the questionnaire

Full administration of the questionnaire

Feedback to both client and candidate from a BPS level A accredited consultant

Full administrator's report and candidate feedback report
Payment is required in full (by BACS, credit card, IBAN or similar bank transfer) prior to setting up the ASQ questionnaires.
The cost to non-Aaron Wallis clients is £160+VAT per ASQ with all of the above inclusions.
To find our more..
Please complete the following short form and we'll look forward to contacting you shortly.