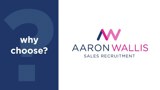 About Aaron Wallis Sales Recruitment
Aaron Wallis Headline Facts
Established 2007
4 Offices across the country - Milton Keynes (Head Office), Birmingham, Leeds and Bristol
Unique service offering with true differentiators and USPs
70% of business is with repeat clients
One of the largest marketing budgets in sales recruitment
Highly visible and busy website which attracts over 500 visitors every day
Consultants are all niche specialists within the sales industry
12 staff in total. Eight consultants and four support staff (as of 24th August 2022)
Led by Rob Scott (www.robscott.info) and Darren Dewrance (uk.linkedin.com/pub/darren-dewrance/1a/675/770)
Aaron Wallis was incorporated by entrepreneurial directors in 2007. The directors had previously held senior posts within major sales recruitment businesses and conceived a service offering that surpassed that of traditional recruiters.  
By providing sales jobseekers with comprehensive, unique advice pages and employers with the tools to make effective recruitment decisions, the business has grown from strength to strength each year despite the wider economic troubles. 
As a committed independent recruiter, we focus on permanent, contract and interim sales recruitment, making sure that all parties that we deal with are satisfied and happy to work with us again.  We believe our repeat clients, possibly the highest in the sales recruitment sector, is testament to our unique delivery of service and the 'personal touch'.
We use the latest technology in our field to ensure that every aspect of what we do is efficient, fast and effective. We offer a wide range of skills testing, training and consultancy to help employers make the right recruitment decisions.
Our dedicated and friendly team are always on hand to help and average over six years of specialist sales recruitment experience.  As such, we are confident that we can offer you a service that will kick start your sales career or ensure that you hire the right sales professional. Our aim is to offer you brilliant service and a hugely positive experience so that you recommend and refer us to others.  
We are members of the REC (the industry regulatory body), FSB, AER (Association of Executive Recruiters), and various local Chambers and support innovation and entrepreneurship in the local area through various mentoring initiatives.
With four branches across England in Milton Keynes, Leeds, Bristol and Birmingham, we offer national coverage, and all branches are equipped with interview rooms that are available to use free of charge to our employer clients.
We look forward to working with you.  Call 01908 061400 to find out more
Published: 26th March 2021
Search jobs
With hundreds of jobs available, now is the time to look for your perfect position
Recruit sales staff
Just fill in your details below to get started

by Rob Scott
Managing Director

About the author
Rob Scott
Rob is the Managing Director of Aaron Wallis Sales Recruitment, a national recruitment agency specialising in sourcing sales and marketing staff for businesses across a broad range of commercial sectors. Before setting up Aaron Wallis, Rob spent ten years at a specialist Sales and Marketing recruitment division of a £0.5BN recruitment group, leaving in 2007 as Marketing & Sales Director to establish Aaron Wallis.
With over 26 years of experience in sales recruitment, Rob is a History graduate with an MBA (Merit) and a PgCert in Management Practice.  In 2007, 2009 and 2013, Rob conducted the most extensive surveys of sales professionals in the UK and is a trusted authority in the sales industry. From guiding employers through the recruitment process to helping candidates find their dream job, Rob's advice has been quoted in leading publications such as the FT, Business Insider, Forbes and The Independent, as well as OnRec, which hosts The Online Recruitment Awards every year.