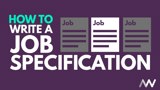 Why Recruitment is Like Dating
Hiring a new employee is a lot like dating. At the beginning, the other person seems almost too good to be true. Everyone is on their best behaviour. They seem clever, charming ... one of the best girlfriends/boyfriends/candidates you've seen in ages! 
But after the hire and the "honeymoon phase", things start to change...
They no longer want to visit your family for Sunday lunch. Dinner is eaten on the coffee table in front of the tele. Flowers and chocolates become a distant memory. Or, in the case of a new employee, they become a bit less helpful, late for meetings, disinterested and distracted. 
Making the wrong hire is an expensive mistake for any business.  But by getting really clear on the requirements up-front, you can ensure your next hire is the best. (You've got to know what you want, to be able to find it!).
Click here to watch our short Job and Person Spec video, and then complete the downloadable questionnaire here to create one for your next hire  https://www.aaronwallis.co.uk/Sample%20Job%20Specification%20Questions.pdf
If you're currently hiring for a role, let us help – just visit our submit a vacancy page and a member of our team will be in touch.
Search jobs
With hundreds of jobs available, now is the time to look for your perfect position
Recruit sales staff
Just fill in your details below to get started

by Rob Scott
Managing Director

About the author
Rob Scott
Rob is the Managing Director of Aaron Wallis Sales Recruitment, a national recruitment agency specialising in sourcing sales and marketing staff for businesses across a broad range of commercial sectors. Before setting up Aaron Wallis, Rob spent ten years at a specialist Sales and Marketing recruitment division of a £0.5BN recruitment group, leaving in 2007 as Marketing & Sales Director to establish Aaron Wallis.
With over 26 years of experience in sales recruitment, Rob is a History graduate with an MBA (Merit) and a PgCert in Management Practice.  In 2007, 2009 and 2013, Rob conducted the most extensive surveys of sales professionals in the UK and is a trusted authority in the sales industry. From guiding employers through the recruitment process to helping candidates find their dream job, Rob's advice has been quoted in leading publications such as the FT, Business Insider, Forbes and The Independent, as well as OnRec, which hosts The Online Recruitment Awards every year.