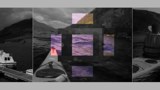 Great Glen Kayak
Banavie - Start - 0km! From Fort William follow signs for Caol and Banavie.   Turn Up hill 100mtrs after crossing the canal (obvious junction!) Follow the road up for approx 500mtrs and look out for a tarmac right turning in between two houses. The road has a dashed junction marked on it which previous smaller turnoffs are missing and the canal can be seen from the main road.  There is a largish car parking area right beside the canal.  
Loy Aquaduct - 8km Loy Aqueduct, the largest of four aqueducts on this first stretch of canal and one of the reasons that Telford's Caledonian Canal is such a masterpiece of engineering for its time
Moy swing bridge - 166829 - 10km This is the last remaining of the original swing bridges installed when the canal was built.  Note that it splits in the middle and each half is opened by a hand operated capstan on the relevant side of the canal.  This means that the bridge-keeper must open one side of the bridge and then jump in his dinghy (with outboard!) to get across the canal, climb out and open the far side. 
Gairlochy Locks - 178842 - 12km Gairlochy Locks.  For most folk, this is the first opportunity to work out a swift and efficient system for portaging (carrying) your canoe and all your kit around lock gates.  It really is worth spending a bit of time to get a good system going as it can save you a lot of time and energy later on. Best to portage up the left hand side of these locks to an easy launch ramp in the sheltered bay. Don't be put off by the locked chain across the track near the put-in - it is slack enough that a canoe on a portage trolley fits underneath it. 
Loch Lochy Loch Lochy. At 15km long, Loch Lochy is the second biggest exposed stretch of water in the Great Glen 
Bunarkaig Bay - 191876 - 12.5km Bunarkaig bay.  This is the ancestral home of Lochiel, Chief of the Clan Cameron, and a ten-minute walk inland towards Achnacarry Castle will take you to the Clan Cameron museum if it is of interest.  
Clunes - 205885 - 17km Clunes is a lovely wee spot to stop at for a picnic, or even for small groups to semi-wild camp, either early or late in the season.  Unfortunately, over the years this area has become a popular destination for the lager-swilling car camping brigade from the cities and is frequently ruined by litter and inappropriate toileting during July and August despite the best efforts of the Forestry Commission. Note that although Clunes is marked on OS maps as a FC car park, there are no toilet facilities.
Glas- dhoire - 254933 - 24km Glas- dhoire
Laggan Locks - 286963 - 29km Laggan Locks coming into view.  Take out at one of the pontoons either side of the spit of land guarding the left entrance to the lock. If you reach here late in the day then the open grassy area with a few pine trees on the South side of the approach to the locks makes a nice camp spot within easy reach of the BW toilet and shower block. Just above the second lock at Laggan you will find the enigma that is the 'Eagle' – a fully licensed pub and restaurant based on an old barge moored just above the loch gates.  Adjacent, and also run by Jan & Paul Betts, is the floating bunkhouse 'Lady Andorina' 
Parking at Laggan Locks - 287963 Cliff can park here and then walk 6km to Glas-dhoire for overnight
Laggan Swing Bridge - 300983 - 31km Laggan swing bridge marks the end of normal canal once again 
Well of the Seven Heads - 304991 - 31km waterside food stores en route at the Well of the Seven Heads, (immediately after the FC car park)
Invergarry Castle - 314006 - 35km Invergarry (Glengarry) Castle
Loch Oich Loch Oich.  The shallowest and arguably the most scenic of the four lochs in the Great Glen, Loch Oich marks the highest point of the Caledonian Canal on its journey from coast to coast (33m above sea level).  Poi
Aberchalder Swing Bridge - 338034 - 38km Aberchalder Swing Bridge
Leitirfearn - Wild Camping Spot - 327014 - 35km a popular 'wild' camping spot suitable for bigger groups at Leitirfearn on the south side 
Kytra Locks - 352068 - 42km Kytra is another lovely quiet camp spot in the evenings and British Waterways are happy for you to camp under the trees on the opposite side of the canal from the nice grassy area.  No toilet facilities here, though.  
Fort Augustus - 46km Fort Augustus is different things to different people. A decent hotel bed.  A beast of a portage around 6 lock gates and a road bridge.  A lovely highland village where in summer you can sup beer or coffee in pavement cafés and spend hours watching canal traffic move up and down the flight of locks.  A chance to replenish supplies. An intriguing centre of industrial, religious, Jacobite and natural heritage. A relative metropolis to escape from as quickly as possible.    The one attraction in Fort Augustus which no paddler of the Great Glen should miss is a quick visit to the Caledonian Canal Visitor Centre, based in an easy-to-miss little cottage half way down the left bank of the flight of locks.  The centre is open 9.30 to 5.30, seven days a week, Easter to October and can be contacted on 01320 366493. Entry is free.  You will appreciate the route you are travelling so much more if you take time out to visit here.
Cumberland Campsite - PH32 4BG Scottish Canals now prevent folk from camping at the popular spot beside the toilet block at the top of the lock gates, so the only real option for camping in Fort Augustus is now the formal Cumberland Campsite on the outskirts of town on the single track South Loch Ness road. Nice campsite and bunkhouse with good facilities. £8 per person per night to camp. £17-£22 in bunkhouse. A sneaky wee tip for minimising portage the next morning is to launch into the river Tarff, just to the right of the campsite entrance rather than heading left into town. 
Old Pier - 388100 - 47km the ruins of the old pier where the steam trains from Glasgow once met up with the paddle steamers on the loch.
Loch Ness The daunting prospect of 37km of Loch Ness in front of you. The loch is up to 230m deep and contains more water than all of the freshwater lakes in England and Wales put together. The big question, of course, is does it contain more than just water and fish?  Because of its length, and the fact that the landscape funnels the prevailing south-westerly winds straight up the loch, Loch Ness can be a very dangerous place to be in an open canoe and frequently experiences waves of over a metre in height.  Sensible advice is to stick close to one of the shores and avoid crossing over the middle of the loch if you can help it.  Because of this advice the next section is split into following the North shore and following the South shore. 
Inchnacardoch Bay Keep going round the corner and you quickly come to the delightful Inchnacardoch Bay, one of the main leisure craft anchorages for the area and one of the few reasonable access/egress points onto the loch. At one end of the open mouth of the bay is Cherry Island – the one and only island to be found anywhere on Loch Ness.  This little lump of stones has a fascinating history behind it and is actually the remains of a crannog (defensive homestead built out in the water on stilts, over two thousand years ago). 
Rubha Ban - 424150 - 53km Be warned that the caravan and camping park at Rubha Bàn has gone up-market and no longer accepts tents, despite the OS map indicating they are welcome.  The only nearby alternative if you get caught out is a stretch of shingle beach about 500m south along the shore which will take quite a few tents but is immediately below the main road.  A handily sited lay-by here makes the last useful access/egress point until Allt Sigh. 
River Moriston - 54km The outflow of the River Moriston is well worth a wee explore.  If you have the time then land  your boat on the north shore of the river as far up as you can paddle and take a wander along the path towards the village to check out the very picturesque series of waterfalls.  
Alt Sigh - 458190 - 59km Allt Sigh Youth Hostel (also known as Loch Ness Youth Hostel in SYHA marketing blurb) is a popular  stop-off for walkers, cyclists and paddlers in the Great Glen and is one of the very few accommodation options right on the shore of Loch Ness.
Urquhart Castle - 531285 - 70km The remains of Urquhart Castle are reached at Strone Point, just as the shoreline bends left into the shelter of Urquhart Bay.  Past the castle and round the corner is a small jetty where you can tie up your boats and access the grounds.  The Castle is owned and maintained by Historic Scotland. If you just want to quickly stretch your legs then that's fine, but if you want to send any time in the grounds or pop into the excellent visitor centre then please ascend the path to the car park entrance and purchase a ticket. 
Drumnadrochit - 508297 Drumnadrochit, a village always closely associated with Loch Ness.  It is here that you will find the two big competing Loch Ness monster exhibition centres as well as some great cafés and restaurants.  Unfortunately access to the village from the loch is exceedingly difficult. Due to the frequently flooded river delta there is no reliable direct path to the village centre. If you are keen to visit Drum itself then you have two options:   Land on the edge of a field on the south side of the bay at grid ref 524292. Walk diagonally up and right across the field to reach the roadside across from Borlum Farm. There is a campsite with basic facilities beside the riding school here (c.850m from the shore) and a pavement alongside the busy A82 all the way into the village (2.5km walk from the shore).   On the north side of Urquhart Bay at grid ref 527300 lies the modern concrete construction of Loch Ness Harbour.  Public access to this pier is allowed from the loch if you just want a sheltere
Jetty - 524292 Land on the edge of a field on the south side of the bay at grid ref 524292. Walk diagonally up and right across the field to reach the roadside across from Borlum Farm. There is a campsite with basic facilities beside the riding school here (c.850m from the shore) and a pavement alongside the busy A82 all the way into the village (2.5km walk from the shore)
Loch Ness Pier - 527300 - 71km Urquhart Bay at grid ref 527300 lies the modern concrete construction of Loch Ness Harbour.  Public access to this pier is allowed from the loch if you just want a sheltered spot for lunch or to leave the boats for a quick walk into Drumnadrochit (2km along the A82).  If you wish to leave boats here overnight while you stay in a hotel in the village then you will be asked for berthing/launching fees by the company that operates and maintains the harbour.
Clansman Hotel - 562330 - 76km The next feasible landing spot after Loch Ness Harbour is by the Clansman Hotel at grid ref 562330.  Rather than stop at the private jetty here where Jacobite Cruises ships regularly enter and leave, you are advised to pull up on the shore 200m before the jetty.  There is easy access here to a roadside lay-by for egress to a vehicle. To access the hotel for lunch, a pint or a bed simply walk along the shore to just beside the harbour, where an underpass forms an easy and safe way to cross the busy A82 road.
Glendoe Hydro Electric - 402100 - 47km As you leave Fort Augustus and cut across the bay to the south shore the workings of the  Glendoe hydro electric project will be evident.  Completed in late 2008, this was the largest civil engineering project in Europe at the time and involved damming the Allt Doe way up in the hills, tunneling through 3km of bed rock and building a massive underground power station close to the lochside.  It hopefully goes without saying that the well-marked outflow from the power station is not a place to get inquisitive in a canoe, and can turn from tranquil loch to raging torrent in seconds.
Horseshoe Craig - 418121 - 50km The great scar of Horseshoe Craig appears on the cliff.  This place looks intriguing on the map but actually turns out to be a little disappointing on the ground. 
Knockie Boat House - 438146 - 54km Knockie Boat House marks one of the very few opportunities of finding somewhere for groups to camp along this steep and forbidding south shore along to Foyers. It is located almost exactly across the loch from the very visible caravan/chalet park at Rubha Bàn. Knockie Estate has erected a big sign close to the boathouse stating "Private. Strictly No Camping or Fires".  Although the estate have a right of access down the track to the shore and they do own the boathouse, all of the surrounding land is actually owned by the Forestry Commission.  The FC have a very open attitude to access and you are welcome to camp in this area as long as you follow the guidance in the Scottish Outdoor Access Code and do not cause any damage or disturbance. Negotiations are taking place to have the sign removed. The best spot for a group campsite is found on a heathery flat knoll around 150m up the track.  On reaching the second left-hand hairpin cut through the bracken on your right to find it. 
Foyers - 495210 - 62km You know you are approaching Foyers when you start to see a motley collection of old boathouses appear along the shore. Foyers is a nice village spread over a steep hillside, though the waterfront area is a bit neglected. Here you will find two significant large buildings. The nice old stone-built factory building is the site of an old aluminium smelter whose claim to fame was having the first ever commercial–scale hydro electricity plant in 1895.  The modern monstrosity of a building further along the shore which is sorely visible from most of Loch Ness is a 300MW hydro power station. The only facility that may be of interest to paddlers in Lower Foyers is a medical centre. The shop, café and public toilets all lie a steep (but beautiful) walk of 150m ascent up hill in Upper Foyers. If you venture up here do check out the Falls – just off the path – they are pretty impressive. 
Inverfarigaig - 518238 - 66km The terrain immediately around Inverfarigaig is very dramatic and well worth admiring as you paddle past.  Unless you wish to explore the lovely network of forest trails, though, there is nothing to attract you to stop here.
Potential Wild Camping Spot - 552285 - 71km The 13km of shoreline north of Inverfarigaig does include several potential wild camping sites.  The string of picnic sites marked on OS maps is rather misleading, however.  These simply mark lay-bys along the roadside that have decent views of the loch. Only the lay-by directly across from Urquhart Bay has picnic tables and mown grass, and makes a good campsite, albeit right beside the Dores-Foyers single track road. 
Torr Point - 592353 - 80km The village of Dores near the top end of Loch Ness is a popular last night stop for Great Glen paddlers. This admittedly is mainly because of the fantastic loch-side Dores Inn, but the village also has a collection of good B&Bs and awesome views back down the full length of Loch Ness from the pebble beach next to the pub.  Chilling out on the raised beach, watching the sun set over the western mountains as you nurse a pint of real ale and reflect in the glow of paddling the 37km of Loch Ness under your own steam is a memory that will stay with you for years.   If you decide to camp around Dores, please heed the following advice.  The only flat grassy area near the Inn is the kiddies' play park.  Please don't camp here as it rightly annoys the local inhabitants.  Much better to head into the woods of Tor Point along at the far end of the pebble beach. Do not light camp fires in these woods – there is loads of drift wood for fires on the shore, the view is much better and you will not da
Lochend - 596378 - 83km Lochend is not a good place to intend to finish your trip through the Great Glen or your sponsored  paddle up Loch Ness. It is a tiny one-street hamlet jam packed with houses.  There is no car park and you will have a nightmare getting turned if you venture off the main A82 road with a canoe trailer. The only really feasible option is to carry on at least to Dochgarroch. 
Loch Dochfour - 607388 - 84km Loch Dochfour. Stay towards the right-hand side of Loch Dochfour to avoid the busy road on your left and to admire the fantastic oakwoods which make a great picnic spot on your right. 
River Ness - No Go - 85km paddlers inexperienced on fast water and not equipped with suitable rescue gear should not be tempted by the thought of a fast finish into town on the river.
Dochgarroch Lock - 86km Continue on past the long low wall of the weir and you soon come to the start of a long line of pontoons and moored boats which herald arrival at Dochgarroch Lock. Here you will find the first British Waterways toilet and shower block since Fort Augustus and very easy road access to the canal for vehicles and trailers. If you are carrying on to Inverness you can quickly portage the two lock gates on the left and hop back in your boat. Note that the campsite still marked on most maps here at Dochgarroch closed several years ago but Scottish Canals do allow informal camping gear and have provided a BBQ pit and picnic tables. On leaving Dochgarroch the scenery noticeably changes from the steep-sided rugged mountain valley that you have become used to into coastal plain agricultural land for the final 5km push along to Inverness. 
Tomnahurich Swing Bridge - 91km - IV3 5TD The increasing number of folk walking, jogging and cycling along the canal towpath will hint that you are entering the urban fringe.  The first building that you come to as you enter Inverness proper is the rowing club, with their distinctive water-level pontoons, on your left. Soon after, round a sweeping left-hand bend you come across the base for Jacobite Cruises and then the Tomnahurich Swing Bridge.  Paddle under the bridge (you will need to duck!) and carry on
Muirtown Locks - 93km When you come to the top of Muirtown Locks, take out at the pontoon on your right and portage down the right hand side of the locks to the car park. 
Search jobs
With hundreds of jobs available, now is the time to look for your perfect position
Recruit sales staff
Just fill in your details below to get started

by Rob Scott
Managing Director

About the author
Rob Scott
Rob is the Managing Director of Aaron Wallis Sales Recruitment, a national recruitment agency specialising in sourcing sales and marketing staff for businesses across a broad range of commercial sectors. Before setting up Aaron Wallis, Rob spent ten years at a specialist Sales and Marketing recruitment division of a £0.5BN recruitment group, leaving in 2007 as Marketing & Sales Director to establish Aaron Wallis.
With over 24 years of experience in sales recruitment, Rob is a History graduate with an MBA (Merit) and a PgCert in Management Practice.  In 2007, 2009 and 2013 Rob conducted the most extensive surveys of sales professionals in the UK and is a trusted authority in the sales industry. From guiding employers through the recruitment process to helping candidates find their dream job, Rob's advice has been quoted in leading publications such as Business Insider and The Independent, as well as OnRec, which host The Online Recruitment Awards every year.
I have always found Rob to be very knowledgeable about our industry sector, and it is refreshing to see after all of these years that Rob continues to quickly and accurately understand my requirements.
HR and General Manager, THK
We were impressed not only by the quality of candidates you found for us but also the level of information, preparation and qualification you put into the process. You continually kept us informed of each person's feelings about the process, which is very important but often overlooked. I am looking forward to working with your company again in the future.
Commercial Director, Incentive Facilities Management
Giles is highly professional and was a pleasure to work with. He achieves excellent results through his personable skills and tenacity. I have no hesitation in recommending Giles to anyone who considers employing his services.
Commercial Director, G4S Government & Outsourcing Solutions
Giles Phillips is a rare find in the minefield of sales recruitment; an honest and thoughtful recruiter who considers the needs of both the client AND the candidate to create perfect role matches. I look forward to working with him again in the future.
Marketing Director, City of London Police
In an industry where people over promise and under deliver, Rob and his teams have consistently provided a high-quality service. It is great to deal with someone that has an excellent understanding of UK industry, and a passion for sales.
Sales Manager, TR Fasteners
I really liked the YouTube presentations which made the service seem both simple and accessible. The company came to see me, and my management team, at short notice to present their service and I liked the support and advice that I received about maximising the results from the applicant.
Managing Director, Leisuresec plc
As always we were extremely impressed with Rob's understanding of the role and our specific needs.
Managing Director, Speck & Burke
Really good service. Just the right amount of contact and easy to deal with.
HR Manager, Zircon Software Ltd
Generally good standard of candidates. Especially liked the personality profile. Overall good value for money and will certainly use you again.
Managing Director, Medicash
I could not suggest anything I would like you to do better. The service you provided materially exceeded my expectations. I would especially like to commend Simon Bonner; he is easily the best recruitment consultant I have ever dealt with. I particularly valued his advice and guidance throughout the recruitment process. 
UK Sales Manager, BTS Holdings Limited 
Rob is a true recruitment professional that goes the extra mile that I have never experienced from any other recruitment agency before. If you need sales people call Rob or someone in his team, as they really are experts in sales recruitment.
Sales Director, Inside Business
I just wanted to thank you for your help with our recruitment process which went very smoothly and has – we hope – found us just the person for the job!
Managing Director, Citrefine International Ltd
Aaron Wallis has continuously provided us with suitable candidates that have been proactively sourced. Having used countless recruitment companies, Aaron Wallis are the only company that I can count on to deliver.
Managing Director, JARK Healthcare Recruitment
Rob's knowledge of the recruitment industry and his thoughts and how to make it better for his clients have always been eye opening. I would recommend Rob to anybody who is looking for a professional, knowledgeable and flexible recruitment specialist.
CEO, Friday Ad Online Services
Thanks for all your help during the recruitment process. I have been extremely impressed with Aaron Wallis especially when compared to other agencies we have dealt with. I really felt you grasped the type of person we required and found strong candidates.
UK Sales Manager, Nexcom
We appointed Aaron Wallis in February and the successful candidate, out of the six which Aaron Wallis introduced, was able to join Alphametrics before the end of April. The whole process took less than three months. I would recommend Aaron Wallis' services to others without hesitation.
Chief Financial Officer, Alphametrics
Understood the type of person we were looking for and good follow ups - not too frequent.
Managing Director, bigHead Bonding Fasteners Ltd
I have used Aaron Wallis to fill a number of our Sales Development Manager roles and I have found them to provide a very professional service. I will use their services again in future recruitment campaigns.
HR Business Partner, Greene King
Since joining DSGi, Rob has been a supplier of permanent staff and has performed to an extremely high standard, successfully filling 98% of roles he has worked on. If anyone is looking for a good sales and marketing based consultancy with an informal yet professional approach, I would recommend Rob.
Senior Recruitment Consultant, DSG International
Thank you for your dedicated help during the recruitment process - we came to you after unsuccessfully searching elsewhere, and hired, not one, but two! Quick response times, and a really personal approach, without being pushy.
Managing Director, Accora Ltd
I found Aaron Wallis to be very professional and efficient, taking time to understand the role and the type of candidate we were looking for. The candidates they put forward met our criteria and were of a high standard. The service they provided was exemplary and I would have no hesitation in recommending them, and will certainly consider using them again in the future.
HR Assistant, Fischer Connectors Ltd
A great recruitment company to work with. Excellent experience with Aaron Wallis through the entire recruitment process. The team was really professional and extremely helpful. Darren was a pleasure to work with. He was friendly, supportive and gave me great advice. Thank you very much!
A. Bauchet, Candidate
Aaron Wallis Sales Recruitment are a very friendly and professional recruitment organisation who listen to your needs, work with you and act on your behalf which sets them apart from many of their competitors who in my experience are willing to throw anything at you. We discussed my history, my preferences and my wishes - one opportunity was introduced. It was perfect. I start at the end of June.
R. Buckley, Candidate
Wanted to say a huge thank you to Simon Bonner who has just helped me secure my new role. He was one of the most professional recruiters I have ever worked with.
J. Marcinkiewicz, Candidate
Fantastic service, helped me find my ideal job quickly and smoothly. Would highly recommend them.
C. Caine, Candidate
I have to say coming across and having dealings with Aaron Wallis proved to be very successful. Being highly experienced did not seem to count for much during my job search bit a conversation with Robert Scott gave me a real confidence boost and enabled to get a position at the age of 63. Great service!!!
D. Burgess, Candidate
Darren at Aaron Wallis was really encouraging and helpful. He was very responsive and regularly made phone calls to explain the job opportunities available, and guided me through the application process.
A. Brown, Candidate
I had a great experience. Helped me every step of the way to get my new job. Sophie was very polite, kind and helpful!
J. Parnham, Candidate
The staff at Aaron Wallis were fantastic. Throughout the process, they maintained excellent communication and I always knew where I stood.
M. Owusu, Candidate
I would highly recommend Aaron Wallis Recruitment, Darren was extremely helpful and provided me with plenty of advice and support throughout the whole process.
D. Bretherton, Candidate
George Humphries was a complete professional at every point, from our first phone conversation to his "good luck tomorrow" text on Sunday before I started in my new role.
E. Fry, Candidate
Simon was knowledgeable on his clients history, background and what their requirements were and he worked around time zones, holidays and a pandemic to get the right result.
J. Tooze, Candidate
For anyone looking for work, I can't recommend Aaron Wallis highly enough.
C. Rockliffe, Candidate
Aaron Wallis have provided me with an excellent service, Giles went out of his way to help me preparing for my interview and supported me through all the processes. If you need an agency to give you a fully professional and consultative approach to finding you a new career move, the Aaron Wallis can certainly provide this for you.
D. Richards, Candidate
Excellent service, very professional and friendly, would and have, recommended Aaron Wallis.
E. Heley, Candidate
Less than two weeks after joining Aaron Wallis I was offered my new job. I got a £10,000 rise in my basic salary, car allowance, a laptop and many other perks, which will help to further my career. I definitely would not have found my dream job without the help of Aaron Wallis.
C. Hoy, Candidate
I had a very good experience with Aaron Wallis. The company itself is offering great content for all things related to the hiring process. I definitely recommend.
J. Ostermeier, Candidate
Tom was a great help in finding me employment
N. Lignier, Candidate
I can honestly say that the time and expertise you gave me was way beyond any other recruitment consultant I dealt with. You are a rarity in your industry.
S. Akers, Candidate
Aaron Wallis helped me secure a position I really wanted. Giles sought to keep me updated with all the details preceding interviews and after with feedback. I would highly recommend Giles and Aaron Wallis Sales Recruitment.
L. Taylor, Candidate
Rob was really helpful when I was putting together a presentation for the second stage interview. Overall their communication was great and kept me updated of any progress
J. McGrattan, Candidate
Fantastic customer service, communication was brilliant, happy polite people to talk to, made everything a lot easier and smoother. Thank you for all your help getting me back in the work force, Keep up the good work :-)
K. Everitt, Candidate
Sophie has been fantastic and always so attentive, highly recommend.
T. Ashbourne, Candidate
Really excellent experience dealing with Aaron Wallis. Liam Oakes who helped me get a great job was brilliant. Kept me up to date during the process and offered great help and advice, and a thoroughly nice guy. Highly recommended!
J. Hathaway, Candidate
Perfect from start to finish. Simon deserves a shout out. Best recruiter there is. If you need a job, this guy will get you one. He's like the super man of recruiters. Top man, can't recommend him enough.
M. Crisp, Candidate
The service provided by Aaron Wallis has been just great. I was constantly informed about what was going on with the process interview and the agent has always been supportive and kind to me.
L. Colagrossi, Candidate
Friendly, proactive, communicative. Overall a really positive experience.
R. Houston, Candidate
Excellent experience from first contact to ultimately securing a suitable placement. Giles looked after me in a very professional and friendly manner. He used his expertise and experience to ensure I was put forward for the most suitable positions for my skill set and found me a new role very quickly. I can't recommend Aaron Wallis Sales Recruitment highly enough.
M. Green, Candidate
I had the absolute pleasure of working with George Humphries on finding a placement best suitable for me.
A. Van Der Mescht, Candidate
Very good advice and support was given during the course of the interviewing process. Potential job seekers would be well advised to use this company whilst looking for their new career.
R. Speakman, Candidate
I've had a really good experience working with Giles Phillips at Aaron Wallis. From initial contact to the finer details of securing the job, he has been very professional and a pleasure to work with.
M. Shutt, Candidate
When talking with Simon you felt relaxed cared to help you find a position that suited your needs
D. Pinder, Candidate
The most professional recruitment agency I've ever worked with. Robert Scott was extremely proactive and send me a detailed briefing before each interview, ensuring I was well prepared.
D. Bermant, Candidate
Aaron Wallis is an outstanding recruitment agency specialising in high calibre sales positions. I was working directly with Darren Dewrance who went above and beyond my expectations in sourcing me my perfect role. I was kept in regular communication with Darren and he worked extremely hard to secure my dream job. Highly recommended and Thanks Darren for all your expertise and hard work.
R. Sealy, Candidate
Good swift process with Aaron Wallis, informative regarding the role and the process was moved at a good pace with healthy interaction. Would recommend them to anyone pursuing a change.
S. Bartlett, Candidate
Aaron Wallis (and in particular Rob Scott) have been fantastic throughout the recruitment process, and even a few months down the line, still continues to care. Rob clearly cares about each individual and has a wealth of knowledge and expertise, which shows in the work he does. Each candidate is not just a number, and the support received from Aaron Wallis has helped me get a career which I truly enjoy.
M. White, Candidate 
The detail put into the preparation for interviews and the detail of the job description was first class. Rob and Simon in particular are amongst the best I've ever dealt with.
K. Peacock, Candidate
The Recruitment agent I used, Simon, was extremely helpful and really went the extra mile to ensure all of my questions were answered, and that I felt as comfortable and prepared as possible. Very professional company and would definitely recommend to others. Thank you Aaron Wallis!
A. Callaby, Candidate