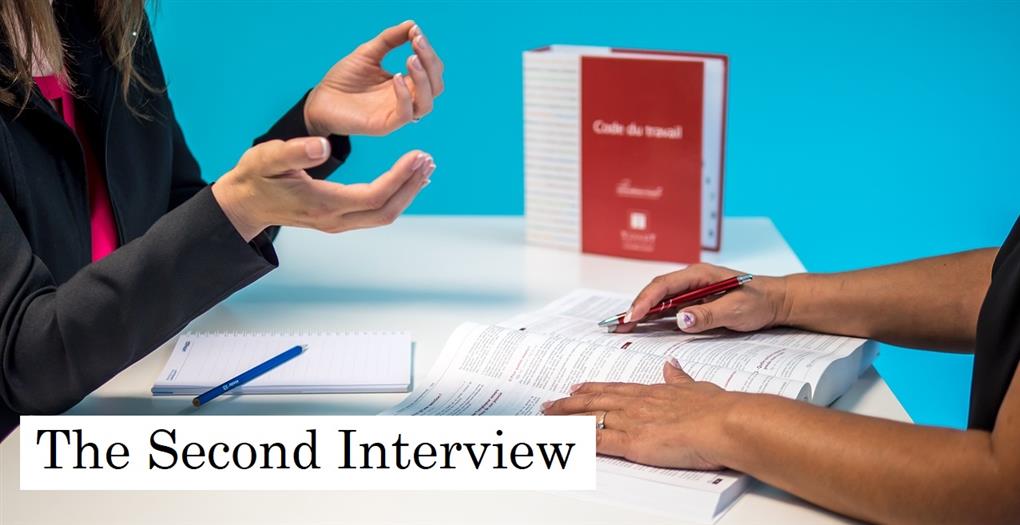 It's increasingly rare for a company to make a hire after just one meeting. Instead, second interviews have become the norm and it's easy to see why.
You might only invite a couple back for a second time, or perhaps one if you merely want reassurance you're making the right decision. Here we'll examine second interviews and how to conduct them to ensure you get the best results.

What's the difference between a first and a second interview?
Many companies now see the first round of interviews as simply part of the process of whittling down likely candidates to the final few.
First impressions count for a lot at first interviews, and you'll soon get a feeling for whether the applicant will be a good fit. A good line of questioning, including a mix of value-based, competency based, cultural fit, and experience questions will back up your judgment, and at the end of the process you'll end up with just a couple of candidates to bring back for the final stage.

Say you were recruiting for a sales executive at a car dealership, the second interview is a perfect opportunity for you to drill down further into the applicant's motivators. What makes him or her tick, how good are they at drilling into the needs of the customer? How do they deal with tricky customers? How do they bring the sale to a natural close?
All these and much more can be unearthed with a more precise line of questioning, perhaps in conjunction with another colleague. A powerful way to try and remove bias from your process is to involve colleagues from other departments. Salespeople, naturally, connect with other salespeople. Therefore, it can be very effective to include a member from say, the finance team, to provide input into your decision process from an entirely different perspective.

Remember that the candidate's expectations are raised once they've been invited back fro the next stage of your process. He or she will be more likely to want to know about what it's like to work at your company, and it is just as important that you sell the role and overall opportunity to them. In this competitive market for talent, it will be worth reading The Importance of Selling to Candidates at a Final Interview.
One final element of a second interview, presuming your candidate is suitable, is discussing terms and conditions. Here you should be prepared to answer questions on the level of basic pay and the how the commission structure works. It's also worth reminding your self of the additional benefits at their level within your business, such as the grade of car, company pension contributions and health benefits.

How should you structure a second interview?
If you're conducting the second interview with a colleague, then it could be useful to brief them on your findings from the first interview with areas of concern, or areas that you would like to delve deeper. It is also worth planning who is going to ask specific questions, who is going to drive the interview and who is going to take the role of active listening, note taking and inquiring to delve deeper using laddering questions (this role is regularly referred to as 'bad cop' in an interview scenario!)
Be prepared to be flexible in your approach, but as a general guide, you could follow this structure:
Welcome and Agenda - introduce the candidate to your colleague(s) if someone else has joined you for the second interview. Make sure the candidate knows who your colleagues are and what positions they hold.
Recap from the first interview - briefly go over the main things you learned from the first interview and use that as a springboard to introducing what you'd like to discuss further.
Formal tasks - that you have set for the candidate such as their business plan, second interview presentation or specific research.
The 'nitty gritty' - drill down further on the applicant's experience, their life skills, values and ambitions. By this point the candidate should be confident and relaxed; they've got so far already. It's a great chance to get to know them better and whether they'll be an excellent fit for your organisation.
Questions from the applicant - take time to respond adequately – especially if you like the applicant and want to create a favourable impression.
The logistics - explore the candidate's availability or notice period, and be prepared to discuss salary, commission and other benefits like annual leave and pension. Be ready to make a conditional offer (i.e. subject to references, or proof of claims) if you have the authority and desire to do so.

If you decide not to immediately press ahead with a conditional offer, thank the candidate for their time and go through how long the selection process will take before a decision is made. Invite the applicant to contact you if any further questions come to mind.

Example second interview questions to ask
What main skills do you think are necessary for this role?
Tell me about a time you had a difficult customer. How did you deal with it?
Have you ever made an unpopular decision that yielded great results?
What are the first three things you'd do if you were hired by us?
What drives you to get up early and come to work each morning?
What are your three most important motivators?
What concerns do you have about working for our organisation? (invite objections from candidates that you are seriously interested in)
What are your salary expectations?
For further preparation, see Eighty Common sales interview questions.
Should I ask about a candidate's long-term ambitions?
Yes! Particularly if you're working in a sales environment, and you are looking to employ a goal-oriented sales professional, the individual should have ambitions and goals. Be realistic in your response to how they answer. The average tenure of a salesperson in the UK is just 2.8 years (The State of Sales in the UK, Aaron Wallis, 2014), so if their response is to be a Sales Manager within five years, don't be too disheartened.
Music to your ears would be your candidate saying: "Why, yes. I want to be selling five of your exceptional new cars each month by the end of the year. This will provide me with the commission to save £10K this year and next, enabling me to purchase my dream house. After that, once I've proved myself, I'd like to think I can progress here into a team-leading role, and eventually be the dealer-principal. That's what drives me!"

What happens after a second interview?
The process will likely finish up in one of three ways:
You've made a conditional offer during the second interview, and so complete the checks and formalities before making the full offer soon after.
You discuss the second interview candidates with colleagues, take a decision and call the recruiter/winning applicant with the good news, making them an offer.
You bring the preferred candidate back for a further and final, face-to-face meeting to iron out any last issues that either party may have before making an offer. A powerful tip is to conduct this meeting in an informal setting, such as a local café/coffee shop. In a more relaxed setting the 'interview facade' is removed and you will see the candidate in a more casual and natural light.

Hopefully, if you've done a thorough job throughout the whole selection process, you are now making hiring decisions based upon logic rather than solely 'gut feel'. In doing so, you're considerably more likely to have selected a great new team member.

---
Navigate our other Employers Advice categories
by clicking the following icons: