A panel interview consists of two or more people sitting together to ask a candidate questions. Typically, your panel might consist of someone from human resources, the hiring manager and an employee from the hiring department. But what are the benefits, and how do you lead a panel interview? Here, we'll explain why it's a useful tool in your recruitment armoury.

The benefits of panel interviewing
There are four key advantages to panel interviews:
In a multi-function role that straddles departments it helps to expose the candidate to more of his/her future bosses and colleagues
It can make logistical sense to get those interviewers in one place at the same time rather than calling a candidate back
The panel will, hopefully, form a common opinion of the candidate, reinforcing a hire or pass decision
Some recruiters believe you see more of the jobseeker's real character under the duress of a panel interview, while they also like to see how the candidate communicates with people from different positions

An example of a role suitable for a panel interview might be a PR management position. This candidate would work across the business and so might be seen by HR, the Head of PR, an existing PR/internal comms employee and potentially a manager from marketing. All would have a valuable input in assessing the candidate.
Because you'll be drawing upon many people's time for this exercise, you'll want to have shortlisted candidates at earlier one-to-one interviews before exposing them to the panel.
Planning for a panel interview
The first task is to establish who should be on the interview panel. Your interviewers should have different fields of expertise and perspectives of the job. This should not only give the business thorough representation, but also provide the candidate with a good insight into the organisation he/she is trying to join.
You then must establish who will lead. But how do you chair an interview panel? The role here is to prepare other members in advance about:
· The job description
· The candidate's CV
· Your ideal candidate profile
· Any other relevant information pertinent to the position

Ensure all panel members are aware of their responsibility, and what sort of questions they would be expected to ask. Make sure the panel arrives in good time.
The lead will meet and greet the candidate, introduce him/her to the rest of the panel, and then chair the questions, answers and general discussion, much like David Dimbleby on the BBC's Question Time!
It's the panel interview chair's role to ensure the candidate has had a fair crack of the whip, and that the organisation has got the clearest possible picture about the candidate's suitability.
What questions should I ask at a panel interview?
It's likely your panel's line of questioning won't differ greatly to what might be expected during a one-to-one interview. The difference is each question should come from a relevant member of the panel, and that can change the dynamics of how the candidate answers, giving a clearer behavioural or cultural fit insight.
For example, the question: "How would your colleagues describe you?" puts the candidate under more pressure to be sincere if asked by a potential team mate who is sitting in on the panel. Whereas the hiring manager would ask: "Tell me about a situation where there was tension with a client or co-worker?" since that would be a strange question from the potential team mate!
It's important to remember how intimidating a panel interview might be. While this is good for assessing true character, your line of questioning should not be aggressive – you'll get more out of the process if the potential recruit is more relaxed and opens up.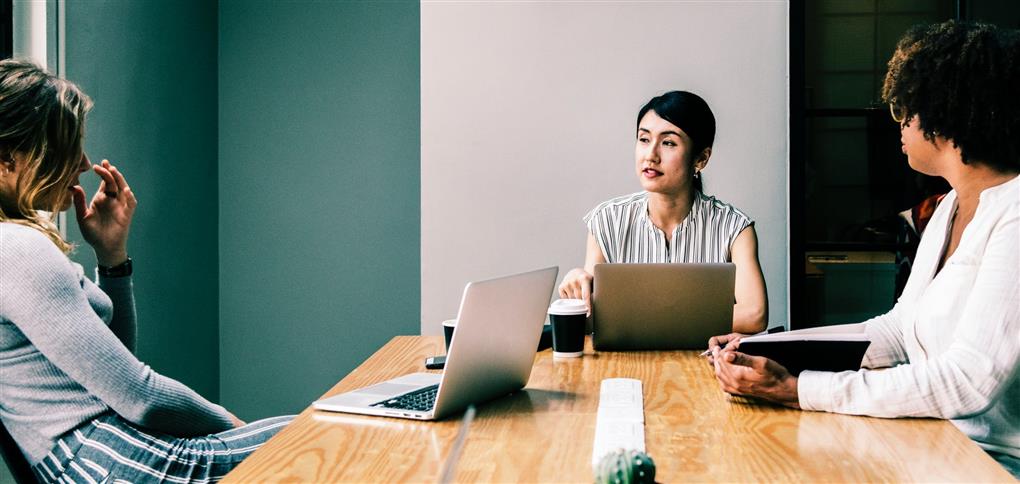 Should I use competency, value or situational interview questions?
In most cases you'll be asking a mixture of all three. However, specific roles, or the bespoke nature of your business, might necessitate concentrating on one area:

Competency based interview questions will focus on the specific skills needed within a role. This might suit functions such as IT, where skill, knowledge and experience are the key. This person will not be customer facing, or dealing with colleagues in the wider business to any great extent.
Value based interview questions are ideal for establishing a candidate's cultural fit to your organisation. Does he/she share your company values, goals and working ethic? If you're a business that thrives on innovation and teamwork, can the candidate demonstrate these traits from previous roles?
Situational interview questions can establish how a candidate has resolved frictions or challenges in the past, be that as a manager, as a colleague or in a client-facing position. This might be more suited to potential managers as a way of probing their management style. The issue with this line of questioning is being confident that the candidate isn't just saying what he/she thinks you want to hear.
How should I follow up a panel interview?
The panel interview should not end when the candidate walks out of the office door. Instead the panel needs to reconvene to discuss its findings while the interview is still fresh in everyone's minds. Hopefully you have arranged the interviews in reasonably quick succession, allowing you to give the winner the good news in reasonable time. You should then give clear and honest feedback to those who missed out.

If you're an employer looking for support with your recruitment process please get in touch with Aaron Wallis Sales Recruitment.
---
Navigate our other Employers Advice categories
by clicking the following icons:




You May Also Like