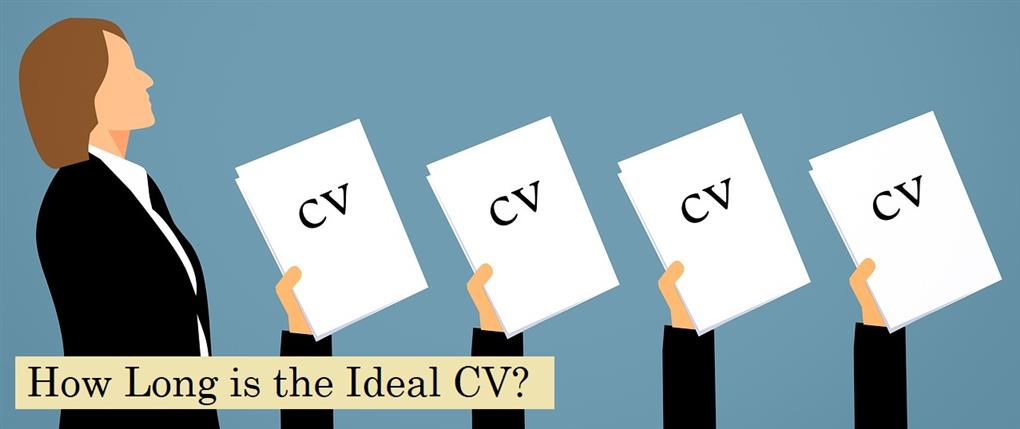 Many candidates worry unduly about their CV. What to put in it? What tone and design? And how long should it be? All valid questions, but once you've made an effort to perfect it, you won't need to do it again, apart from some necessary tweaking to suit each particular job application or general updating here and there.
Assuming that you're truthful, write in a grammatically-correct and engaging style that tells recruiters things they want and need to read about you, one of the most important things you must consider is the length.
While many experts have their own opinions, the consensus is that two pages are about right. Any less and you risk appearing inexperienced or merely having nothing much of interest to say.
In sales, for example, if you can't sell yourself, why should potential employers think you can sell for them? Writing way too much turns recruiters off and tells them instantly that you're unable to communicate succinctly. You might get away with three, or maybe even four pages at a stretch, but any more than that? Forget it.

What should I put in my CV?
Knowing your ideal CV length of two pages is one thing, but you still need to ensure you've included everything in it that a recruiter expects, giving you the optimum chance of making it to the first interview stage.
That's where your awesome personality and character will shine through, but that doesn't mean your CV has finished its job. Your interviewer will use your CV as a prompt for questions and probe your experience and beliefs to see if you'll be ideal for the job and a great cultural fit.
So, what MUST you include in the document?
Your employment history in reverse chronological order, i.e. put your most recent job first. You need to include a little bit about what the company does and your role within it.
Your key achievements are, well, key. Be sure to specify your big successes to demonstrate to recruiters that you're a competent achiever in your current and previous roles. Doing so implies you'd succeed in your next job. An interviewer will dig more in-depth here, so make sure you have the evidence and results to back up your claims.
Links to your social media are essential, so long as you appear normal and interesting! Rightly or wrongly, hiring managers will seek out and look over your Facebook, Twitter or Instagram pages, so make sure you don't come over as a party animal or spout any political or controversial views on social media.
If you have any gaps in your CV, perhaps you took a career break to go travelling, look after children, or were made redundant, make this clear. It's fine to have taken a break, but it's not okay to try to cover it up.
Hobbies and interests will make you sound interesting and show you are more than just a "work machine". However, be specific, and if at all possible, tailor your interests to suit the role. For example, if trying to bag a sales manager position, now would be a good time to mention you captained or managed a sports team.
At some point in your CV, ensure you have covered your experience for the job. You should spread these reinforcing messages throughout the document.
Above all, make sure your spelling and grammar are perfect. Any mistakes will make you appear sloppy, and that's never a good sign for any role.

What's the ideal CV structure?
1. Contact details. Include your telephone number and your email address (make sure it's one you check often). Your address is not necessary, but you may want to detail your town/city/county as a location.
2. Personal summary. This should summarise who you are as a person and be relevant to the job you're hoping to land. So, for a salesperson, you might write:
I am a results-driven salesperson whose proactive and tenacious style brings many important contract wins. My excellent networking skills bring key client leads for myself and my employers, and my strong client relationship skills allow me to lift existing customer revenues by 12%.
3. Skills summary. Complement your personal summary with a paragraph on your skills. Again, ensure it is relevant to the position and that you include basic office skills. Summarising skills in this way will help your CV be picked up by recruitment software and AI, which is increasingly being used to aid shortlisting.
4. Work Experience. Outline your most recent job first, including a one-line overview of each company so that the reviewer of your CV immediately understands your career.
5. Education and training. Include your most relevant qualifications. So, if you have a degree in astrophysics and an MBA, there's no need to list all of your GCSEs, although many do and this is not a problem.
6. Hobbies. Be relevant, so team sports, being a captain, volunteering and such are welcome. "Socialising with friends" makes it sound as though you just like going to the pub.
7. References. It's common now to state: "References are available on request." Personally, as this is a 'given', I would put this valuable CV space to better use.

Once you've written it all out, used bolded headings, then check your length. You should be around the two-page limit; the ideal length of a CV.
A final tip, you do not need to put 'Curriculum Vitae' at the top of your CV. Nor do you need to include your marital status, kid's names, NI Number, religion, sexual orientation, height, weight, parent's names or other sensitive personal information.
Check, recheck and check yet again for spelling and grammatical errors. Have someone you trust to look over your CV for you, not only for editing purposes but to question everything you have included, just as any recruiter would.

Should I tweak my CV for each application?
Yes, you should. Every job is different. Although roles may be similar, the company and its core values will change. You, therefore, should ensure your CV reflects this every time you apply. Tweak your personal statement, skills, and experience accordingly.
By producing the best CV you can, you'll maximise your chances of getting an interview, and winning your dream job.
---
CV Topics

Navigate our Candidate Advice categories by clicking the following icons:



You May Also Like