The State of SaaS Sales In 2023
The software as a service (SaaS) industry has experienced explosive growth in the past few years. In fact, according to market research firm Gartner, global spending on SaaS solutions will exceed £630 billion in 2023. The UK is a major customer for SaaS, with the second largest IT spend per business headcount in the world, only beaten by the US (1).
With such rapid expansion in an industry that continues to see further innovation and development, it's no surprise that more and more businesses are investing in SaaS solutions. This 'State of SaaS Sales in 2023' by Aaron Wallis Sales Recruitment examines trends in the sector and predictions for the year ahead.
Key takeaways

Why is the Software as a Service industry growing so aggressively?
The SaaS industry has experienced steady growth for years. This can be attributed to a number of factors, such as the convenience and ease of use of SaaS solutions, the fact that many businesses, especially SMEs, find it difficult to invest in and manage on-premise software solutions, and the shift towards more digital processes. SaaS solutions are also accessible from anywhere and can be scaled according to changing business needs. Another factor is that many SMEs find it difficult to invest in on-premise software and to manage it. Finally, for even the biggest budgets, SaaS can be easier to sign-off in a business, due to monthly retainers rather than large initial outlays.
Macro-economic outlook & SaaS
Despite the fact that 90% of IT leaders believe that the economy will slow down, technology spending is expected to rise at its third fastest rate in over 15 years, and most technology executives expect their budget to rise in 2023 (2). The same 2022 Nash Squared Digital Leadership reports that 52% of IT leaders in the UK believe their technology budget will grow and 56% of UK organisations expect to expand their technology workforce in 2023. Only a small number believe their budget will diminish.

With SaaS seemingly resistant to current market pressures, the outlook for expenditure in this sector looks strong: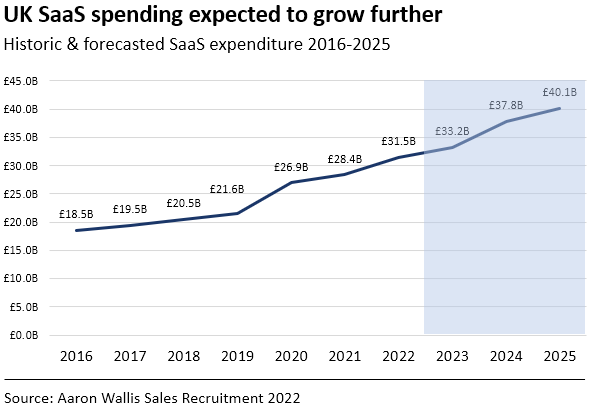 UK SaaS Sales Prediction 2023

Rob Scott
Managing Director at Aaron Wallis Sales Recruitment
Despite macro-economic challenges, it's clear that SaaS is here to stay in 2023. Pretty much every major organisation in the world is going through some sort of digital transformation with budgets often committed from initiatives started in previous years. With the challenges in developing in-house solutions, SaaS is pivotal to the execution of digital processes.
Sales professionals in the SaaS sector
The ONS report that the UK now has over 2,100 dedicated SaaS businesses, projected to grow to over 2,300 by the end of 2023. Extrapolation and market analysis by Aaron Wallis Sales Recruitment suggests there are now over 7,000 people in B2B SaaS sales roles, expected to grow to around 8,000 by the end of the year.

SaaS sales is a lucrative sector to work in with the highest flying in the city able to consistently take home over six-figures. From our experience, SaaS Sales roles can expect to take home the below:


| Role | Lower Range | Higher range |
| --- | --- | --- |
| Sales Director, SaaS | £90,000 | £200,000 |
| Head of Sales, SaaS | £65,000 | £100,000 |
| Business Development Manager, SaaS | £50,000 | £70,000 |
| Account Director, SaaS | £50,000 | £65,000 |
| Sales Development Representative, SaaS | £40,000 | £50,000 |
| Customer Success Manager, SaaS | £40,000 | £50,000 |
| Business Development Executive, SaaS | £25,000 | £40,000 |
| Sales Executive, SaaS | £25,000 | £40,000 |
Everything as a service
Across the world, the "as-a-Service" model of technology servicing,  is gaining momentum. In B2C services like Adobe Creative Suite and Microsoft Office, as well as B2B CRM, sales, and CMS solutions, the SaaS model is becoming the de facto method for users to obtain services and products.
Businesses are also offering more items in the same pay-as-you-go framework.
In 2023, the trend towards 'as a service' models continues to build traction, with many referring to the model now as XaaS (anything as a service).
SaaS vs. IaaS vs. PaaS
SaaS is one of the three main cloud technology types.
SaaS, IaaS, and PaaS are all cloud service models. All three models provide cloud providers with data centre capacity that they deliver over the internet. The fundamental difference between the models is the completeness of their products. SaaS products are finished, fully managed applications. IaaS provides data centre resources that are outsourced in addition to PaaS, which delivers a platform for development and other tools. Vendors handle maintenance, upgrades, support, security, and all other aspects of software management in SaaS applications. Users do not have to install or manage any existing IT infrastructure, nor do they have to deal with any aspect of the software management.
Using IaaS, enterprises can outsource their data centres and computer assets to a cloud company. Infrastructure resources such as servers, storage, networking hardware, and virtualisation services are all part of IaaS. When using IaaS services, customer organisations still must manage their data use, applications, and operating systems (OSes).
In contrast, PaaS is a platform that provides the resources required for in-house developers. PaaS lets them produce customised applications. Because the vendor manages the infrastructure elements that support the tools, customer organisations using PaaS services must manage their applications and data usage.
References
1) Gartner: IT Industry Forecasting, 2022
2) NashSquared Digital Leadership Report 2022
We welcome use of our data and content on other websites or publications. Please reference Aaron Wallis Sales Recruitment and www.aaronwallis.co.uk
Date published: 27th November 2022
Aaron Wallis Sales Recruitment is a national sales recruitment agency with dedicated recruitment consultants to tech sales recruitment and saas sales recruitment.
Aaron Wallis are a national specialist sales recruitment agency comfortable across many sectors, however more recently the majority of our clients utilise the below offerings:
Search jobs
With hundreds of jobs available, now is the time to look for your perfect position
Recruit sales staff
Just fill in your details below to get started